How patience, Syracuse's police chief and an impromptu video freed hostages
Chief Joseph Cecile recorded videos of himself to build trust with the suspect; the videos were texted to the suspect and hours later, the standoff was over
---
By Darian Stevenson
syracuse.com
SYRACUSE, N.Y. — A man with a gun who held two girls and a pregnant woman hostage in a Syracuse apartment kept hanging up on police negotiators.
The man earlier released the girls but still had the woman. It was a tense situation with a huge police presence — SWAT team, snipers and a police robot — outside the North State Street apartment.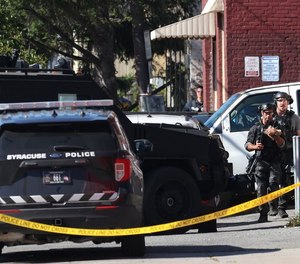 Negotiators were at a standstill. They decided to try something different: They called Police Chief Joseph Cecile.
The man with the gun – later identified as Leslie T. Henderson, 45, of Syracuse – wanted to talk to the chief. He said he knew the chief when Cecile had worked as a street cop in the 1990s. He said he trusted the chief because when he was once arrested, he made sure someone took care of his dogs.
The chief – who recognized Henderson's name and photo — isn't trained in negotiations, so the team didn't want to put him on the phone with Henderson. So, they had the chief make a video message.
Negotiators texted Henderson the video. Thirty seconds later, Henderson was back on the phone with negotiators.
Several hours later, he released the third hostage around 7:40 p.m. and moments afterward, Henderson turned himself in to police.
The 12-hour standoff last weekend, which could have ended much more tragically, was over with no injuries and the man in custody.
Cecile sat down with Syracuse.com | The Post-Standard this week to talk in detail about the standoff and how Syracuse officers – together with help from mental health experts and others – worked to defuse the situation and end it safely.
It all started at about 8:21 a.m. last Saturday when a caller to 911 reported that someone shot at him at 1022 N. State St. Syracuse police soon swarmed the apartment building and neighborhood.
Henderson, the building superintendent, was holding the two teens and the woman against their will inside an apartment on the third floor.
Soon, Henderson was speaking to the department's negotiators by phone.
The negotiators convinced him to release the two girls who were both 14 years old, one at 11:30 a.m. and the other at 1:30 p.m.
One of the girls is the daughter of Hasahn "Haz" Bloodworth, co-founder of Rebirth Syracuse, a group that's protested against police abuse. He said he was overwhelmed with joy to see his daughter come out of the apartment unharmed.
Bloodworth, at times a critic of the police, said he was impressed with the way police handled the situation. He said they treated Henderson's family with respect and brought food to those displaced from the apartment building.
During the negotiations, Henderson requested to speak with the chief several times.
Cecile said he remembered Henderson from when he worked on the West Side in an area that was known to have problems with weapons and drugs.
Henderson was in and out of trouble then, Cecile said. The chief said he didn't want to say more about Henderson's problems.
State records show Henderson spent time in state prison three times, twice on drug charges and once for robbery. He last got out in 2020.
Henderson remembered his interactions with Cecile. He told negotiators that Cecile and other officers took good care of his dogs when Henderson was once arrested, Cecile said. They told him where his dogs would be taken and who would care for them while he was away. The officers even offered advice on how he could get them back, he said.
Cecile had left at about 2 p.m., shortly after the release of the second girl.
About an hour later, a member of the police Crisis Response Unit called him to say Henderson asked if the two of them could speak. Cecile returned to the apartment building.
Cecile and the negotiators discussed what he should say. Negotiators wrote up a statement, but Cecile wanted to work with negotiators to say what he felt was more natural and genuine. Together they drafted a script, he said.
The team recorded a video of Cecile with the command post in the background. Cecile said it was about trust. He wanted to make sure Henderson knew he was on the scene and willing to talk to him if Henderson was willing to let the other hostage go.
In the video, Cecile said, he addressed Henderson by his first name and motioned to the command post in the background. He told Henderson he was willing to talk to him.
He remembers saying something like:
"We know each other from the old days and I'm sorry about what you're going through right now, but you and I know both know, the young lady is not the cause of the problem, or the solution to your problem."
The chief said he told Henderson he needed to do the right thing by releasing the 26-year-old woman so she could come out and get something to eat. He'd noted she had been locked in the apartment all day.
Negotiators texted Henderson the video and it worked to get Henderson back on the phone talking. Several hours later, the standoff was over.
After the hostage was released, Henderson was taken out of the building in handcuffs and was put on a stretcher. He was later charged with unlawful imprisonment, criminal possession of a weapon and reckless endangerment.
Cecile said the negotiation may have taken longer after he sent the video because Henderson was concerned about what would happen to him once he released the hostage and surrendered.
But Cecile said the negotiation team works to form a relationship and discuss the best-case scenario with people during standoffs. He said negotiators are honest with suspects and they even told Henderson that he would face charges once he surrendered that night.
Negotiators also tried to get a hold of Henderson's doctor, so he could speak with someone he trusted. Liberty Resources, a local agency that provides mental health services, was also on the scene, Cecile said.
He said negotiators don't rush for an outcome, and make sure to take their time when discussing options, just like they did with Henderson on Saturday.
Cecile said those involved in the negotiation process stressed it was a team effort with all the officers on the scene. Cecile wanted to highlight their good work by identifying the negotiators but honored their wishes to not be named.
Cecile said building relationships in the community is an essential part of the job. He said the department could always work to get better in this aspect, but that he's been seeing the younger generation of officers step up in this area.
"This situation highlights that you should always treat people with dignity and compassion, even in their darkest moments," Cecile said.
—
©2023 Advance Local Media LLC. Visit syracuse.com.
Distributed by Tribune Content Agency, LLC.
McClatchy-Tribune News Service