3 Kansas City officers shot, wounded in shooting during undercover drug deal
Chief: "That's the one thing that keeps me up at night. How I'm putting young men and women at risk every night"
---
By Bill Lukitsch, Katie Moore and Jenna Thompson
The Kansas City Star
KANSAS CITY, Kan. — Three Kansas City, Kansas, police officers and three suspects were injured in a shooting Wednesday afternoon during an attempted arrest related to a drug investigation, according to police.
About 3 p.m., the shooting broke out after police tried to arrest suspects in an undercover investigation of fentanyl dealing, police said. All were taken to the hospital with injuries that were not thought to be life-threatening.
In a message posted to Twitter about 4:30 p.m., the Kansas City Police Department said it had been asked to investigate the shooting.
Gia Bleu was on FaceTime with a friend at the house across the street when she heard brakes and a crash. That was followed by multiple shots being fired, including what sounded like a machine gun.
"I got down on the floor," she said. "It was very loud, it sounded like Grand Theft Auto, like the video game."
After the shooting stopped, she looked outside and saw officers running with shields.
"It was very dramatic," Bleu said.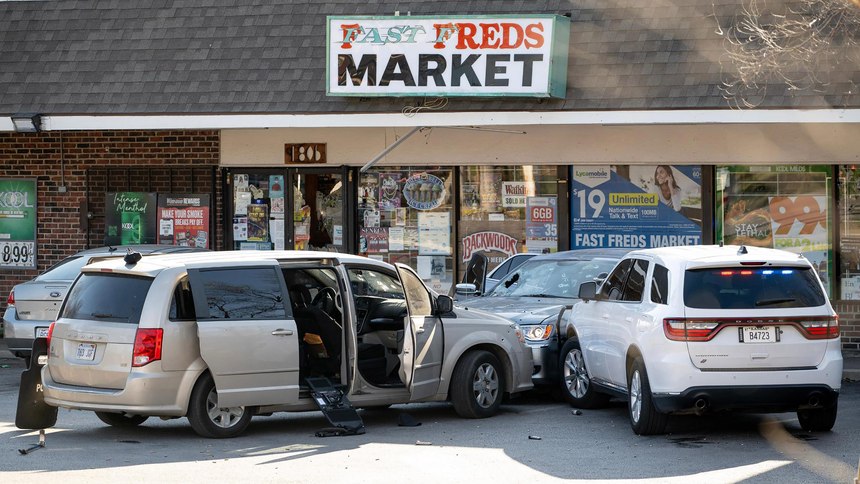 Kansas City, Kansas, Police Chief Karl Oakman said the officers injured Wednesday were part of a tactical team called in to arrest the suspects. Undercover officers had purchased fentanyl from the same suspected source and were attempting to buy again on Wednesday afternoon, he said.
Oakman described an earlier afternoon promotion ceremony in contrast with the news of the three officers shot roughly an hour later, saying "sometimes you just don't realize the ups and downs of policing."
"As a leader of an organization, that's the one thing that keeps me up at night. How I'm putting young men and women at risk every night to protect the citizens of Kansas City, Kansas. That's one of the things that really keeps you up at night."
The Kansas City Police Department is investigating the use of force as part of an agreement struck last year between the two agencies.
Officer Donna Drake, a spokeswoman for KCPD, said investigators would be reviewing any available video footage and conducting witness interviews as part of the investigation. She said those findings would be forwarded to the Wyandotte County District Attorney's Office.
In a news conference shortly after 5 p.m., Dr. Sean Kumer, associate chief medical officer at the University of Kansas Health System, said the officers were able to converse.
KU Police Chief Brad Deichler said it was "an emotional time."
©2023 The Kansas City Star.
Visit kansascity.com.
Distributed by Tribune Content Agency, LLC.
RELATED:
McClatchy-Tribune News Service