Burning Man organizers want end to stops of festival-goers
Police insist they are not targeting Burning Man travelers and said the stops are part of an effort to crack down on a nationwide opioid epidemic on tribal lands
---
Associated Press
RENO, Nev. — A lawyer for Burning Man organizers sent a letter to the U.S. Bureau of Indian Affairs calling for an end to what he called the unconstitutional tactic of stepped-up traffic stops of vehicles bound for the annual counter-culture festival in the Nevada desert, the Reno Gazette Journal reported Friday.
Special counsel Adam Belsky also demanded federal officials preserve all records related to the stops and searches on a state highway through Pyramid Lake Paiute tribal land.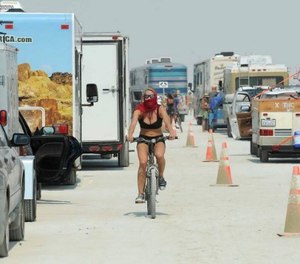 The weeklong event that begins at midnight Sunday is expected to attract 80,000 people to the Black Rock Desert on land managed by the U.S. Bureau of Land Management.
Belsky says many of the traffic stops are attempts to intimidate and harass travelers doing nothing more than passing through the reservation on a state-maintained highway.
"It appears that the BIA agents are unconstitutionally targeting attendees of the Burning Man event in violation of their First Amendment rights of free expression and of freedom to assemble," Belsky wrote.
Burning Man organizers argued in the letter to acting Bureau of Indian Affairs Director Daryl LaCounte that the stops have slowed internal preparations for the event and could affect their ability to provide ice, portable toilet maintenance and public services at the event.
Federal authorities insist they are not targeting Burning Man travelers. Nedra Darling, a spokeswoman for the U.S. Bureau of Indian Affairs, said the stops are part of an effort to crack down on a nationwide opioid epidemic on tribal lands.
"It's a serious problem that Indian Country has, that the country has. This is an opportunity to help the tribe," Darling told the Gazette Journal.
"It has nothing to do with Burning Man," she said. "If they are driving through and they're not breaking the law, then they should have no problem."
Billed as the largest outdoor arts festival in North America, Burning Man is a psychedelic adventure that combines wilderness camping with avante-garde performance — a Mardi Gras-like celebration on what appears to be the surface of the moon.
This year, so-called Burners making their trek to the ancient dried up lake bed have experienced stops in the area of Nixon, a small town halfway between Reno and the Burning Man site. A long stretch of State Route 447, which passes through Nixon, is the only main road to the site.
The Bureau of Indian Affairs has not been involved in enforcing the law in years past, but BIA officers in partnership with tribal officers have been accused of stopping vehicles for minor infractions, Belsky said, adding that law enforcement officers are also searching some vehicles, sometimes with K9 units.
Burning Man attendees have been known to partake in controlled substances during the event, as evidenced by arrest and citation records. More than 50 people are arrested each year at the event, most on drug-related charges, and dozens more are cited for drug-related violations.