5 things to know about MS-13
Here are five things to know about the violent criminal organization the White House currently has in its crosshairs
---
By Police1 Staff
Led largely by Attorney General Jeff Sessions, the Trump administration has set its sights on wiping out MS-13. Trump's strategy to dismantle the group is primarily focused on tough stances on immigration, calling for tripling the amount of Immigration and Customs Enforcement officers, punishing so-called sanctuary cities, and pushing legislation for expedited deportation of illegal immigrants, particularly those known to be involved in gang activity.
Started in Los Angeles in the '80s, MS-13 is one of the world's most notorious street gangs. Here are five things to know about the violent criminal organization the White House currently has in its crosshairs.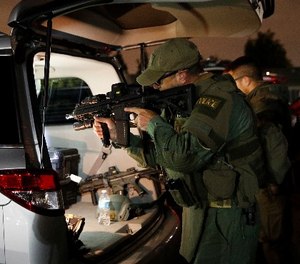 1. MS-13 was born out of civil war in El Salvador
The violence in El Salvador in the early '80s resulted in many Salvadorians fleeing the country and settling in the United States, particularly Los Angeles, where MS-13 was created out of the need for Salvadorian immigrants to protect themselves from other street gangs in harsh neighborhoods.
MS-13 is short for La Mara Salvatrucha. The gang also goes by "MS" and "Mara." According to the DOJ, "mara" is a term used in El Salvador for "gang." "Salvatrucha" combines "Salva" (Salvadoran) and "truncha" ("cunning," "look out," or "alert"). The 13 is for "M," the 13th letter of the alphabet, alluding to the gang's allegiance to the Mexican Mafia prison gang.
During the Clinton administration, in response to the growing threat, the government began deporting gang-affiliated immigrants in large numbers. In an unintended consequence, this crackdown is believed to have caused the increase in MS-13 membership and the gang's spread around the world. Violence in Central America at the hands of returning gang members destabilized the region, leading to another mass migration to the U.S. and other countries. Presently, the gang is active across the United States and is believed to have as many as 10,000 members. Worldwide, the criminal organization is believed to be over 30,000 strong. Although large, they are not considered homogenous.
2. MS-13 is notorious for its brutal violence
MS-13 members grew up in violence, and have built a reputation for committing horrific acts.  Machetes are often used to carry out their crimes, and headline-grabbing beheadings have played a substantial role in their notoriety.
Just this year alone, the group has garnered national attention for numerous violent incidents. In April, four men were fatally ambushed in a Long Island park by over a dozen members wielding machetes. In March, two MS-13 members were charged in the killing of a woman in what was allegedly a satanic ritual in Texas. The list goes on and on.
3. The Treasury Department declared MS-13 a transnational criminal organization
MS-13 was designated a transnational crime organization in 2012 – the first U.S. street gang to be labeled as such. The U.S. Department of Treasury linked them to activities including kidnapping, sex trafficking, assassinations, racketeering, blackmail and extortion.
In the years since, the Treasury has sanctioned multiple prominent members of the gang.
Big progress being made in ridding our country of MS-13 gang members and gang members in general. MAKE AMERICA SAFE AGAIN!

— Donald J. Trump (@realDonaldTrump) July 27, 2017
A common misconception about the group is their level of influence in the drug trade. Unlike some other gangs, MS-13's participation in trafficking is mostly low-level, and they are not viewed as a key player in large-scale operations.
Instead, the group gets most of its funding from extortion and human trafficking.
4. Gone are the days of visible tattoos
Like many gangs, the popularity of visible tattoos has waned over the years in favor of a more undetectable appearance as result of law enforcement crackdowns on the group.
"They initially stopped because they didn't want to be identified but now it's become a sort of cultural landmark because they view themselves as being past that stage," gang expert Douglas Farah told the Daily Caller.
5. What do top cops think of the group?
In a recent interview with NPR, Houston Police Chief Art Acevedo said MS-13's crimes are disproportionately brutal.
"They're ruthless," Acevedo said. "They will kill without blinking an eye. We had a young lady that was brutally raped and murdered. And just the lack of empathy, the lack of respect, the lack of human decency with these guys that makes them - they celebrate homicide. They celebrate brutality. And they wear it as a badge of honor. And that's something that makes them extremely dangerous."
Montgomery County (Md.) Police Department Capt. Paul Liquorie, who has seen a dramatic uptick in MS-13 killings in recent years, told The Daily Signal:
"One of the things most alarming recently is the number of homicides, and the brutality and callousness by which they occur. What I mean by that is the reasoning behind the violence may just be someone flashing a gang sign on the internet, or someone who may be believed to be a rival gang member. The murders are not done in the sense of to gain greater territory or monetary benefits for the gang itself."
But while the danger of MS-13 isn't in question, some law enforcement leaders have criticized the Trump administration's approach to dealing with the gang, particularly the threat to withhold federal funding to counties that don't participate in what is known as the 287(g) delegated authority program – which gives local law enforcement agencies the power to carry out federal immigration enforcement tasks.
Some law enforcement officials argue  that 287(g) destroys the trust between police agencies and Latino communities – and in turn, results in the loss of valuable intel on MS-13 provided by those communities.
"Our strategy is as follows: we collect a tremendous amount of intelligence on the gang with the specific objective of identifying MS-13 gang members and hangouts and assign police officers to specific gang members […] This results in the collection of intelligence and generates valuable evidence for the federal prosecution down the road," Suffolk, New York Police Commissioner Timothy D. Sini said during a Senate hearing in May. He was among three police chiefs who spoke against the Trump administration's strategy during the hearing.