How police couples can best manage the holiday season
You can set your family up for a great holiday season by shifting your mindset and approach, even making your own traditions
---
The following content is one piece of a six-part holiday-focused module produced by Lexipol's Cordico wellness team. If your agency uses the Cordico wellness app, you can access the complete on-demand module in the wellness toolkit. If your agency does not have Cordico, learn more about how this mobile, confidential app can help your agency with a variety of wellness-focused solutions.
The holiday season experience is one of the things that makes law enforcement family life so unique. Chances are you're working at least one of the upcoming holidays. Shift schedules and mandatory overtime do not care which days are most important to your family.
Taking a few minutes to think about your spouse's perspective on your unique work schedule can help you set the stage for more productive conversations about just how to navigate it all.
For officers: The holidays and your spouse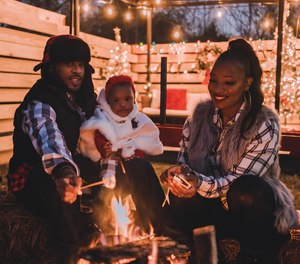 Let's face it: It isn't fun for your spouse when they can't count on you being home for important holidays. Being a law enforcement spouse can be especially lonely during the holidays. Spouses may get tired of attending holiday events alone while their family and friends are with their partners. It's hard to have conversation after conversation about where you are and why you didn't get the day off.
If you have children, the crazy holiday event schedule and home responsibilities fall on the at-home spouse, as do the big feelings your kids have about their law enforcement parent not being present. All of these things only make the holiday season more stressful.
No one would choose to adapt to less time enjoyed as a family, more home responsibilities to manage solo, and more events to attend alone. As such, it's natural for your spouse to feel disappointed when they find out you won't be home for another holiday.
When you tell your spouse you're working on a holiday, the response may seem harsh, maybe something like, "Of course, you're working again." It can help to hear this as disappointment, not a judgment of you.
The best thing you can do is listen and validate their feelings about the situation: "I'm really sad I'll be missing Christmas Eve; I was really looking forward to our time together too." Your spouse wants to know they are not alone in the hard feelings.
For spouses: The holidays and officers
Not being home for important holidays is stressful for officers. They don't want to disappoint their family, and they may feel guilty and sad when they are the reason that this time of year feels harder and "less special" for the family. Of course, they enjoy having holidays off and spending special moments with family! They also know they committed to this when they took the job, and they know they can't change this aspect of their work. This might be why you hear a defensive response from them, maybe something like, "You think I want to be working!?"
The holiday season is an especially difficult time to be in law enforcement. Not only are officers away from their family and the comfort of home on special days, but they also spend those holiday shifts responding to and managing the emergencies that other people are facing. During the holiday season, there are more accidents and illnesses, and many people are dealing with heightened family stress, loneliness and depression. This means there's a good chance your law enforcement spouse will be spending their holiday shifts responding to people who are seriously injured or sick, people who are threatening to harm themselves, suicide calls, domestic violence calls, and accidents involving children.
Try to find balance in acknowledging your own feelings about your spouse missing holidays with support for their reality of missing out or working on a day they would rather not. Some useful responses: "Oh no! That's so unfortunate; we were all looking forward to that day together" or "Of course! It felt too good to be true. Well, I'm sorry you have to work; I'm sure you're not looking forward to this either."  
Tips for couples
With this guidance as your foundation for holiday communication, here are several tips to help you successfully navigate this season as a couple: 
Communicate and plan ahead. Take time beforehand to discuss the expectations you both have for the upcoming holiday. Talk about the things you foresee causing the most stress and help your partner understand how they can best support you during this time. You will be most successful if you focus on good communication, clear plans and supporting each other.
Adjust your ideas about what "holiday" means. When you define a special day by a specific date and your family schedule doesn't allow everyone to be home on that day, you set yourself up for disappointment. Instead, try defining the special day as a day when everyone can get together to celebrate. If you can be flexible about when you celebrate, it gives you more control – and the law enforcement officer will never miss it.
Make your own traditions. Because you can't depend on the law enforcement spouse being home for important holidays year after year, you'll need to be flexible. New traditions for your immediate family will need to be more first responder friendly; that is, they don't depend on a date and time, but rather on an experience. So, a Christmas Eve gift-opening tradition might become a gift-opening on the last day your family has together before Christmas. What kid wouldn't want a special gift earlier than expected? You'll need to get creative with how to adapt, but it's all possible. Some families have kids write or call Santa to explain their situation and ask for gift delivery to the station so Dad or Mom can be there for the reveal. Maybe they ask Santa for a gift delivery on a different day to accommodate a parent's schedule. Santa tends to be very flexible and understanding of law enforcement families.
Model flexibility. Things will change unexpectedly last minute or work out in ways that disappoint your family. This is just the reality. It's natural to have big feelings about holiday disappointments. Talk with your spouse about these feelings when you're alone. Avoid having big negative reactions in front of your kids. Doing so can make it harder for them to be flexible and accept the situation. Instead, work to model compassion, understanding, flexibility and problem-solving. Remember, your children will need these skills for years to come; the holidays aren't the only time when plans will be disrupted. Talk through the scheduling conflict with them – you can even ask for their input and suggestions on how to adapt! Help them get excited about the change and the ways their family is unique. It can benefit all of you when you can say together, "Yes, we have to do things a little differently, and yes, we've got this!"
Teamwork time
Working as a team with your spouse will make it easier to navigate the challenges and support your entire family during an especially busy and stressful time. You can set your family up for a great holiday season by shifting your mindset and approach. When you find ways to support one another, communicate and think outside the 9-to-5 box, you will find ways to successfully manage all the unique stressors your family may face throughout the holiday season.
Read more from Dr. Rachelle Zemlok on the Cordico blog:
Find the complete module on how your law enforcement family can successfully navigate special occasions and the holiday season in Lexipol's Cordico wellness app for first responders.