IACP 2022: Are officers really 'leaving in droves'?
In a new study, fewer than 20% of officers reported seeking work outside of policing; however, recruitment and retention continues to challenge departments
---
DALLAS — Researchers like Charlie Scheer, PhD, want to know why people are leaving and why people are staying in law enforcement careers.  
During a presentation at the International Association of Chiefs of Police conference this week, Scheer gave a rapid overview of survey findings from the study "Police Retention and Career Perceptions," a year-long national study of officer retention trends that collected data from sworn officers employed at eight large and mid-size cities, broadly representative of law enforcement in the United States. Additionally, representatives from three of the eight departments that participated in the study discussed their department's recruitment and retention challenges and opportunities. 
Research overview 
Detailing study demographics, Scheer shared that just over half (53%) of the respondents worked at the patrol level and averaged 13 years of experience. Most respondents (69%) work for only one agency, and 82% were male. The racial/ethnic demographics of respondents were consistent with nationwide representation in law enforcement. The education level of respondents was high, with 44% having a bachelor's degree.  
One of the key findings highlighted by Scheer is that just under 20% of officers responding to the survey are seeking work outside of policing profession.  
"We heard the narrative, 'police are leaving in droves,'" Scheer said. "We wanted to know if that was happening." 
Key takeaways about police officer recruitment and retention 
Session attendees received several actionable ideas and encouragement from the presenters. Deputy Chief Joe Hayer, Frederick (Maryland) Police Department, reminded everyone: "Recruitment and retention go hand in hand. What's working to recruit people to our agencies is what's working to retain people."  
1. Recruitment and retention processes must be dynamic 
Representatives from three departments that participated in the study shared that while each department has to regularly replace retiring officers, they are not experiencing dramatic losses of personnel or failing recruitment efforts. Instead, they recognize that recruitment and retention processes are dynamic and must be regularly updated.  
For example, Deputy Chief Jerry Peters of the Thornton (Colorado) Police Department described a new benefit to expand medicare coverage for retiring officers. Officers who retire with 30 years of service, between the ages of 50 to 55, can now receive department-provided medical insurance until they are 65 years old.  
The Frederick Police Department now uses a two-page pre-screening application early in the process. They want to eliminate applicants that will not pass non-negotiable state requirements for employment early in the process, saving both the department's and the applicant's time.  
2. Study why people are leaving your agency 
The mantra that "people don't quit bad jobs, they quit bad bosses" is the guiding philosophy of countless leadership and supervisory development programs. Poor leadership, as explored in the 2022 Police1 What Cops Want industry survey, could be a key factor in losing experienced cops, but it might not be the only factor. Through the research program, Thornton found that 60% of respondents from their department reported being treated poorly by their colleagues. Thus, his personnel weren't at risk of quitting a bad boss, they were more likely to consider leaving their bad coworkers.  
"The idea that officers are leaving in droves nationwide is not borne out in this study," Scheer said. But the impact of resignations, lateral departures, or early retirements is relative to the size of a department's sworn force. Scheer also described retention and recruitment as "a disorder with no common symptom" to emphasize the importance of understanding what's happening in each agency. 
3. Meet recruits where they are at 
The department representatives highlighted the importance of regular communication with their applicants that starts with first contact and continues until the officer is on the job. Attendees were encouraged to treat a police recruit the same as a college football coach treats and messages a football recruit, as well as their family.  
In Thornton, every applicant that passes the test is assigned a mentor. The mentor calls their recruit every week, conducts home visits with the recruit and gives a personal touch to the process. "It's a coaching session all the way through," Peters said.  
Similarly, the Bryan (Texas) Police Department goes out of its way to sell recruits on the intangibles of working for their department. Department leadership believes a family atmosphere and a supportive community are two of the department's top traits: "When you graduate from the academy you are welcome into this family," Lt. Walt Melnyk said. "There will never be an issue of defunding the police department in Bryan, Texas. The officers feel that."  
4. Reduce all causes of friction 
The three police department panelists emphasized the importance of competitive compensation and benefits, especially relative to neighboring departments. If salaries are comparable, departments need to do other things to stand out and reduce the time and complexity for a recruit applying to an agency.  
For example, the Thornton Police Department, situated in a fast-growing community in the Denver metro area, hires officers every month and offers oral boards every week to "expedite our hiring process." Thornton recruits are also able to start working for the department, earning salary and benefits, before entering the academy.  
Thornton also pays 100% of college costs for cadets, and as soon as someone is hired, the department initiates a career path. "We are trying to career path and individualize everybody, so they don't just feel like a number," Peters said.  
The Bryan Police Department has updated its hiring process to more regularly communicate with applicants. Melnyk shared how they help their recruits mitigate scheduling conflicts and keep them up to date on the hiring process timeline.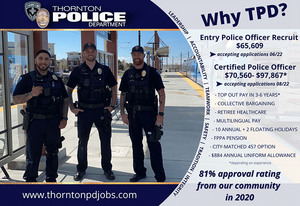 5. Social media is critical 
Nearly every police department has a social media presence. The panelists encouraged attendees to consider social media channels for recruiting. Some departments, like Thornton, are also creating websites just for recruiting.  
"The best thing we can do is really go out there and market ourselves as a police department and a city," Melnyk said. "We've got to find a way to push ourselves into that arena." 
At the Frederick Police Department, Hayer said, everyone is a recruiter. Collectively, department personnel sends thousands of emails every week. By including a "we're hiring" with starting salary and benefits in the signature block of those emails, they are regularly reaching potential new recruits and lateral transfers.  
Several departments were spotlighted for their excellent recruiting videos. One example: Hayer mentioned the recent viral video from the Fort Worth (Texas) Police Department for clearly communicating the department's opportunities and culture.  
Learn more about police officer recruitment and retention 
Police1 has dozens of articles, videos and other resources on police officer recruitment. You can learn more from the panelist's departments by connecting with them on social media.