Digital Edition: What cops want in 2022
Download this in-depth analysis of Police1's State of the Industry survey on the support officers need from their supervisors and leaders to perform at their peak
---
Click here to download your copy!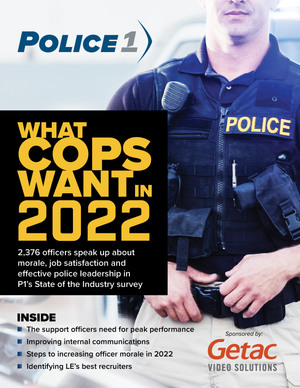 Strong police leadership has never been more important to maintain officer morale, improve retention and prioritize safety. But how supported do officers and deputies feel by their first-line supervisors, chiefs and sheriffs? That is the issue we wanted to address in Police1's second annual State of the Industry Survey.
When asked to select the least satisfying thing about working in law enforcement, 60% of the 2,376 respondents chose poor agency leadership. If there's a silver lining to this seemingly damning statistic, it's that the fixes are simple. Here's what officers told us over and over what they want from their leaders:
To communicate … to be consistent … to care.
This special edition outlines how to:
Create workplace cultures that attract new officers and retain veteran LEOs
Implement strategies that prioritize officer health and safety
Identify the promoters who will serve as the best police recruiters
"Creating a workforce that is optimistic about the future, proud of the work it does, and where people feel they are cared for by their supervisors and managers could foster success in the years ahead. This survey could be a starting point to open discussions with officers, staff and community members toward that goal," writes Bob Harrison, who provides an overall analysis of the survey's findings.
► Download and share this resource. Fill out the form below to download the free digital edition.