IACP Quick Take: Vermont's mental health crisis training model for small agencies
The Team Two program pairs first responders with mental health crisis trainers for a one-day training course
---
CHICAGO — With police officers responding to an increasing number of mental health-related calls, education and collaboration are key factors to prevent or mitigate tragedies.
At the 126th International Association of Chiefs of Police Conference, a panel shared the success they've had with the Team Two program.
Participants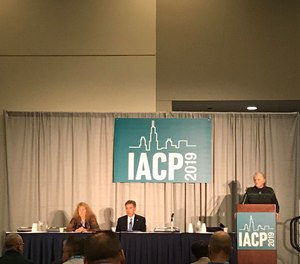 Kristin Chandler, Team Two Vermont
Tony Facos, Montpelier Police Department
Mary Moulton, Washington County Mental Health
Quick Summary
Now more than ever, cops need training for effectively responding to mental health calls. But not all police departments have the time or resources to commit their LEOs to 40-hour crisis intervention training (CIT), particularly small and rural agencies. In Vermont, officials found a solution in the Team Two program – a free one-day statewide training session that pairs first responders with mental health professionals.
3 Key Takeaways
1. It's critical to build relationships before a crisis.
The impetus for the creation of Team Two was Tropical Storm Irene in 2011. The disaster had a major impact on psychiatric facilities, with closures and the state scrambling to assemble crisis teams to respond to mental health-related incidents. Many small towns where police agencies lacked CIT training were affected.
Through this experience, the state identified the areas in which law enforcement agencies and mental health clinicians needed to learn from each other. The panel urged the audience not to wait for a crisis like Irene to develop relationships with local mental health partners. Make sure those relationships are strong so your agency is ready when the time comes to respond.
2. Team Two training packs a lot into an 8-hour course.
The training, which happens six-to-eight times per year in five regions around the state, brings together first responders, dispatchers and mental health clinicians. The training agenda includes:
Legal updates (involuntary commitment process, mental health warrants, firearm prohibition)
Scenarios based on actual cases (veteran issues, chronic callers, developmental disabilities, elders, autism, elopements). This is a small group break out facilitated by trainers/peers.
Large group discussion (covering safety, legal and clinical aspects of the scenario)
Review of regional resources for mental health response
Panel presentation (person with lived experience who may have had police involvement in the past, was in a mental health facility, is a family member of someone with a mental illness). This person is often recognized by first responders at the training, which can be highly beneficial: When first responders see a person they've previously interacted with during a mental health crisis now OK and talking to the crowd, it gives them hope that people can get better. It also helps humanize those with mental illness.
Autism spectrum video
Survey completion (feedback on the training, results and what trainees would like to see in future sessions)
Open Q&A
3. It's about mutual learning.
Team Two is all about mutual learning between first responders and mental health care professionals. First responders need to know things like how to assess what they're seeing when they go to mental health calls, what resources are available in their region and what legal options mental health crisis clinicians can offer to remedy the situation (e.g., "When can you hold this person?"). On the other side, clinicians need to know what tactics and tools first responders have at their disposal to manage mental health calls, and what they can and can't do legally or according to policy. Getting both sides together gives everyone a better understanding of how to most effectively handle a person in a mental health crisis.
Other Observations
In addition to first responders, dispatchers and mental health clinicians, the training also invites other stakeholders (e.g., prosecutors, school social workers, veterans crisis teams) to attend.
This is not an expensive program – it costs $100,000 for the year for the entire state.
It's important to get the word out. Team Two does it by putting out a "Good News" bulletin sharing their successes. This has resulted in good press and increased attention to the training program. They also give out an annual award to recognize outstanding work.
To learn more about Team Two, visit their website.
Learn More
Framework for law enforcement responses to people with mental health needs
How one agency is decriminalizing mental illness, saving money and bettering lives
IACP Quick Take: Oregon's approach to addressing mental health and crisis response