39 people found dead in truck in southeast England
A man from Northern Ireland has been arrested in connection with the deaths
---
Bill Smith
Deutsche Presse-Agentur GmbH
LONDON — The discovery of 39 bodies in a truck on an industrial estate outside London has prompted an outcry in Britain, as police tried to find out who the victims were, and where exactly the vehicle came from.
British Prime Minister Boris Johnson said he was "appalled" at the deaths, which migrant rights groups blamed partly on a crackdown on illegal migration by British authorities.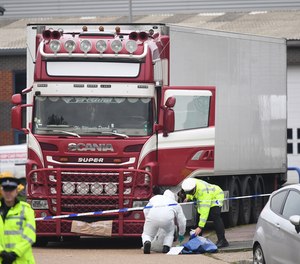 Police in the county of Essex said they investigated a report early Wednesday of "a lorry container with people inside" at the Waterglade Industrial Park near the town of Grays, east of London.
"Emergency services arrived but sadly, 39 people were pronounced dead at the scene," the police said, adding that early indications suggested the victims were 38 adults and one teenager.
They said the driver of the truck attached to the trailer, a 25-year-old man from Northern Ireland, was arrested on suspicion of murder.
Deputy Chief Constable Pippa Mills said identifying the victims was the "number one priority" in the investigation.
The police said the trailer unit was believed to have entered Britain from Belgium, amending an earlier report that it had arrived at a port with ferry services to Ireland.
"After further enquiries, we now believe that the trailer traveled from Zeebrugge (in Belgium) into Purfleet (near London), and docked in the Thurrock area shortly after 12:30 a.m. this morning (2330 Tuesday)," the police said.
"The tractor unit of the lorry is believed to have originated in Northern Ireland," they said.
Purfleet is a freight port close to Grays on the Thames estuary.
In Sofia, a Bulgarian foreign ministry spokesman said by email that the Scania truck was "registered in Varna under the name of a company owned by an Irish citizen."
The Bulgarian Embassy in London is cooperating with the British police investigation, the spokesman said.
Bulgarian radio station Horizont BNR said the truck was registered in Bulgaria on June 19, 2017, and had not returned since leaving the country the next day.
Jackie Doyle-Price, a local member of Parliament, suggested the case was linked to human trafficking but police did not immediately confirm that.
Responding to a question in Parliament from Doyle-Price, Johnson said, "All such traders in human beings should be hunted down and brought to justice."
Johnson earlier tweeted that he was "appalled" and would "work closely with Essex Police as we establish exactly what has happened."
I'm appalled by this tragic incident in Essex. I am receiving regular updates and the Home Office will work closely with Essex Police as we establish exactly what has happened. My thoughts are with all those who lost their lives & their loved ones.

— Boris Johnson (@BorisJohnson) October 23, 2019
Doyle-Price told lawmakers that the finding of migrants hidden in trucks entering Britain was a "regular occurrence" in her constituency, and she had felt it was "only a matter of time" until people died.
Thousands of migrants are smuggled into Britain annually on trucks, ships and sometimes planes, with cases reported almost daily.
Amnesty International and other rights groups suggested that tough policing of illegal migration by British authorities was forcing migrants to take ever-more desperate measures to reach the country.
The Essex case is reminiscent of the 71 migrants who were found suffocated in an abandoned truck on an Austrian motorway in August 2015, at the height of Europe's refugee crisis.
In 2000, police found 58 Chinese migrants dead in a container truck at the southeastern English port of Dover.
McClatchy-Tribune News Service