Calif. authorities arrest 275 child predators
The effort dubbed "Operation Broken Heart" involved dozens of local, state and federal authorities
---
By Tami Abdollah
Associated Press
LOS ANGELES — A monthlong national effort to capture sex predators led to 275 arrests in Southern California that included a teaching assistant for special needs kids, a retired sheriff's deputy and a U.S. Army soldier, authorities said Thursday.
The effort dubbed "Operation Broken Heart" involved dozens of local, state and federal authorities throughout May who targeted sex offenders, child sex traffickers, pimps, child porn traders and sex tourists traveling abroad.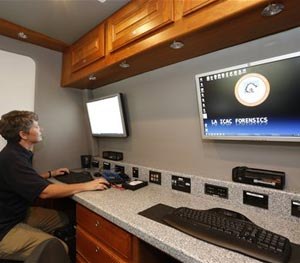 In a technique reminiscent of the infamous show "To Catch a Predator," the Los Angeles Regional Internet Crimes Against Children task force had its investigators pretend to be 12 to 14-year-old children online and arrested many individuals when they showed up to engage in sex acts with children.
"The dirty old man stereotype no longer applies," said Claude Arnold, special agent in charge of ICE Homeland Security Investigations, which works on the task force. "The perpetrators in these cases come from all walks of life and virtually every strata of the socio-economic spectrum they're community leaders, white-collar professionals and even law enforcement personnel. The common denominator in most of these cases is the Internet. It has become the preferred playground for child sex predators."
At a news conference Thursday in a park where children played, authorities emphasized the importance of educating youth about the dangers of the Internet and insisted that parents strictly supervise and are aware of their children's online activities.
"You lock your doors and windows every night to be able to keep predators out of your home," said Long Beach Police Chief Jim McDonnell. "If your child is in the next room on the Internet, you may have a predator basically sitting virtually in the next room and you're giving that predator access."
A number of the more than 275 people arrested were in positions of trust and with easy access to children. Arrestees included:
— A teacher's assistant was arrested by the Los Angeles Police department after he allegedly showed up to a meeting believing he was going to have sex with two children.
— A retired Los Angeles County Sheriff's deputy was arrested for allegedly distributing child pornography through several websites.
— Of the arrested, California parole agents picked up 186 sex offenders for violating their terms of release. Three were found in possession of child pornography; multiple were found in places where they're barred such as parks and schools. Of the 186 sex offenders arrested, 155 were sent back to court with recommendations to have their parole revoked.
— A 64-year-old computer programmer was arrested by Los Angeles County sheriff's deputies after allegedly traveling to a park to try to meet with a 15-year-old child for sex. A search warrant for his home and business indicated he'd exchanged emails with multiple other children and had posted 100 advertisements looking for sex with young girls.
— A U.S. Army soldier on leave responded to two separate undercover investigators posing as young girls and was arrested after showing up to have sex.
— A former substitute teacher allegedly posted a personal ad seeking sex with a father and a son. He was arrested after allegedly traveling to meet with what he believed was an 8-year-old boy.
The number of arrests and potential allegations are expected to grow as forensic investigators continue analyzing seized evidence. Law enforcement conducted the operations in Los Angeles, Orange, San Bernardino, Santa Barbara and Ventura counties.
Copyright 2014 The Associated Press