Eighth person dead in Ga. mobile home attack, suspect at large
---
By Russ Bynum
Associated Press
BRUNSWICK, Ga. — An eighth person has died in an attack on a Georgia mobile home, police said Sunday.
Glynn County Police Chief Matt Doering identified the victim as 19-year-old Michael Toler. He was one of two people critically injured in the attacks in Brunswick along the Georgia coast. A ninth is hospitalized.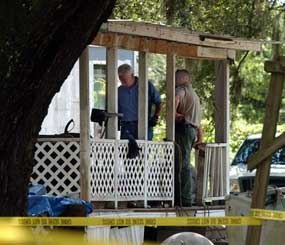 The man who reported the gruesome slayings, originally of seven people, faces charges of lying to police and tampering with evidence, and authorities said they haven't ruled him out as a suspect in the killings.
The killer was not among the dead, whose bodies were found Saturday, or the last survivor, according to Doering.
Doering also announced a $25,000 reward for information that leads to an arrest and conviction. He said police have no other suspects, adding: "We need help."
Guy Heinze Jr., 22, was arrested late Saturday and also faces charges of illegal possession of prescription drugs and marijuana, said Doering.
"He was a family member who came home and discovered (the victims), at least that's what he told us," Doering said.
Asked if Heinze was involved in the slayings, Doering said: "I'm not going to rule him out, but I'm not going to characterize him as a suspect."
Police have not released the other victims' names or said how they died in the home on an old plantation, nestled among centuries-old, moss-draped oak trees in coastal southeast Georgia. Doering defended his vague statements about the case, saying he didn't want the public to know details that might compromise what he called a "tedious" investigation.
"We just simply don't have a lot to go on," Doering said. "I'm not going to tell people not to be cautious. Until we know exactly what happened and who did it, that's not going to change."
The Georgia Bureau of Investigation began conducting autopsies Sunday. GBI spokesman John Bankhead said results would be released by Glynn County police, and Doering refused to comment, saying it could take two or three days for autopsies to be completed.