Idaho deputy at fault in 110 MPH crash
Investigation by police department found officer was driving at high-speeds without emergency lights on
---
By Benton Smith
The Times-News
TWIN FALLS, Idaho — A Twin Falls County sheriff's deputy has left the department after a state investigation found he was driving 110 mph in the moments before a December crash that injured him and led to a multi-day search for his police dog.
Stanton Jay Wiggins, 35, was cited for careless driving May 6. He has since left the sheriff's office. The crash happened shortly before 6 p.m. Dec. 28 at Pole Line Road and 2700 E. when Wiggins' Chevy Tahoe was struck by a Ford Taurus driven by Michael Pulizzi, 30.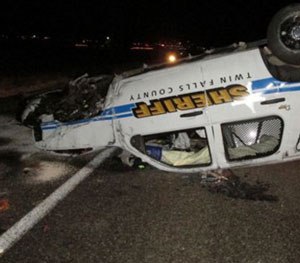 Initial reports said Wiggins was responding to a possible suicide at the Perrine Bridge while driving on Pole Line, when the Taurus ran a stop sign at 2700 East and hit the left, rear part of the Tahoe. But an investigation by Idaho State Police concluded the crash was caused by Wiggins, who was driving 110 mph at impact, without his emergency lights activated.
The Twin Falls County Sheriff's Office declined to say whether Wiggins was fired or resigned, citing personnel policies.
Wiggins told the Times-News on Friday the report is not complete and leaves out evidence.
"There is another independent witness that the state police chose not to use," he said.
Wiggins said he wanted to speak with his attorney before commenting further. "Believe me, I would love right now to sit down with you and we could have coffee for a couple hours talking about everything that is going on," he said. "I can tell you this: This is going to get very interesting."
Pulizzi told police he looked down Pole Line Road both ways before proceeding, the crash report said. The report said because of the distance of the Tahoe and a slight curve in the road before the intersection, Pulizzi might not have been able to see Wiggins' headlights. Pulizzi was not cited.
The investigation determined Pulizzi was driving at least 17 mph at the time of the crash, but couldn't determine whether he came to a complete stop before entering the intersection.
"I remember coming up to 2700 East and the only thing I can recall is a vehicle coming out of nowhere," Wiggins said in his statement to ISP.
Wiggins said he tried to move to the right and accelerated to avoid the Taurus, but was clipped on the back driver's side of the car, causing him to turn sideways and roll multiple times.
The investigation report concluded that Pulizzi would have been able to safely enter the intersection and travel through without a collision if Wiggins had been going the speed limit and drove with "due regard to all motorists."
Wiggins' left arm became trapped under the roof of his car, severing two tendons in his hand. Pulizzi and his passenger were both uninjured.
The sheriff's office searched for Wiggins' police dog, Drago, with a helicopter and in the Snake River Canyon on four-wheelers. The dog was spotted throughout the week of the crash in the Meander Point subdivision, north of Pole Line Road, along the Snake River Canyon. He was found Jan. 1.
Copyright 2015 The Times-News
McClatchy-Tribune News Service