NYC mayor promises increased police presence after Hanukkah celebration stabbing
Lawmakers have also asked the NYPD to include hate crimes in its weekly statistic reports in addition to releasing quarterly statistics
---
Shant Shahrigian
New York Daily News
NEW YORK CITY — Mayor de Blasio announced new efforts to crack down on anti-Semitism on Sunday, following the latest in a horrifying series of attacks targeting Jewish people in New York and beyond.
"Fearing the next act of terror will not become the new normal for our Jewish neighbors," Hizzoner said in a statement. "In New York City, diversity is our strength and we respect the traditions of all who call New York City home. Intolerance will never take hold here."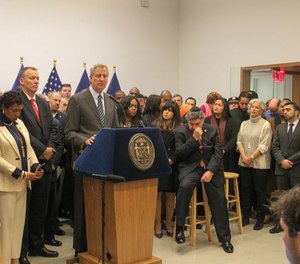 The new steps include "multi-ethnic interfaith Neighborhood Safety Coalitions," increased NYPD presence in Jewish neighborhoods and new Education Department curriculums about anti-Semitism.
The new coalitions "will identify and address issues that drive hate-based crimes, bringing together stakeholders from across their communities" in schools, street corners and places of worship, according to de Blasio's office.
Details of the coalitions, including budgets, the number of expected members and a launch date, were not immediately known. They'll be overseen by de Blasio's Office for the Prevention of Hate Crimes, which opened in the fall, after its promised launch date.
The Education Department will conduct hate crime awareness programs at Brooklyn middle and high schools starting next month, the mayor's office said.
"We have to reach out to our young people more effectively," Hizzoner said at a press conference at Grand Army Plaza in Brooklyn. "Young people who do not understand the meaning of their actions don't understand that hatred only breeds more hatred."
The mayor also said NYPD precincts in Borough Park, Midwood, Crown Heights, Bedford-Stuyvesant and Williamsburg will get an extra four to six officers per tour, among other security measures.
Gov. Cuomo promised an increased police presence in Jewish communities in response to Saturday's attack on a Chanukah celebration in Monsey, N.Y., in which five were injured.
However, a member of the congregation that was targeted and a Brooklyn councilman said they hadn't seen any signs of extra state police.
"We would like to see more police officers on the street. I've been driving around since yesterday after the attack and didn't see any cops" at synagogues other than Congregation Netzach Yisroel, said Simon Guttman, 27, who worships in Monsey.
"With respect to the governor, parking state police in a selective number of synagogues is not the answer," said Councilman Chaim Deutsch, who chairs the body's Jewish Caucus. "The governor needs to place protection at synagogues all over the city and state.
"He's been sending out on social media that he's sending extra state police," he added. "I haven't seen any state police in front of any synagogues that I know of."
Deutsch and three other Jewish lawmakers called on Cuomo to declare a state of emergency following Saturday's machete attack, which came after eight anti-Semitic attacks struck New York City earlier in the week.
"Anti-Semitic hate crimes have grown to frighteningly high numbers over the past several months," reads the letter co-signed by Councilman Kalman Yeger, state Sen. Simcha Felder and Assemblyman Simcha Eichenstein, all Dems repping Brooklyn nabes with large Orthodox Jewish populations. "This has been appropriately described as a 'slow-rolling pogrom.'"
A Cuomo official said there was a "significant deployment" of state police forces but declined to provide a number, citing security concerns. The official added that emergency declarations suspend hiring rules for circumstances like snow storms, and wouldn't help boost security.
Lawmakers have struggled to combat the city's shocking spiking in anti-Semitic incidents. There were 214 such crimes in the city as of Friday, a 14% spike compared to last year, according to NYPD statistics.
Right now, the NYPD doesn't include breakdowns of hate crimes in its weekly neighborhood-by-neighborhood "CompStat" reports, though it compiles quarterly reports on hate crime.
Councilman Mark Treyger (D-Brooklyn) and 26 other Council members called on Police Commissioner Dermot Shea to change the policy.
"Adding hate crimes to CompStat may also help make sure justice is delivered equally to all communities," lawmakers stated in the Dec. 19 letter.
"The NYPD extensively reports on hate crimes consistent with local law on our website and provides the latest hate crime information to the media on a weekly basis," NYPD spokeswoman Det. Annette Shelton said in a statement. "This sharing of information will continue."
De Blasio's office did not directly comment on the letter, but spokeswoman Olivia Lapeyrolerie said, "We have no tolerance for anti-semitism in New York City."
McClatchy-Tribune News Service