Ore. State Police settle fatal OIS lawsuit, pay $1.6M and apologize to victim's wife
One trooper involved had "documented history of making poor decisions," which led to his removal from the state police SWAT team in Feb. 2015
---
By Maxine Bernstein
oregonlive.com
JOSEPHINE COUNTY, Ore. — The state of Oregon will pay $1.6 million to settle a wrongful death lawsuit in the fatal shooting of a 55-year-old man by two state troopers eight years ago in rural Josephine County.
Oregon State Police Superintendent Casey Codding also signed a brief letter of apology to Bernadette "Bernie" Box, the widow of the man killed, Robert Clinton Box. She was on the phone with her husband at the time and heard the gunshots.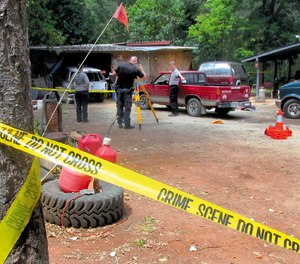 Codding expressed the agency's "sincerest condolences" to Bernadette Box and her family.
"The events of May 29, 2015, were indeed tragic and I would like to apologize and hope they are never repeated," the one-paragraph letter said.
"While this letter cannot make up for the loss of your husband, please know OSP does recognize our role in the tragedy and intends to learn all we can from it."
The settlement was reached just before a trial was set to start Tuesday on the civil lawsuit.
The Oregon Court of Appeals previously ruled that Troopers Gregor Smyth and Heather West trespassed on the Box property before they ended up shooting Robert Box.
They were responding to a report of a domestic assault, but as they were on their way, dispatchers updated them that the alleged victim, Box's daughter, already had left the home and was on her way to the hospital, according to the suit.
State police supervisors and co-workers knew Smyth had a lengthy, documented history of making poor decisions and using dangerous tactics, leading to his removal from the state police SWAT team in late February 2015, just three months before he shot Robert Box, according to court records.
But they "turned a blind eye and failed to critically evaluate his fitness for duty and remove him from patrol duty," wrote attorney Richard D. Adams, one of the lawyers who filed the suit on behalf of Box's widow.
Adams and co-counsel David D. Park alleged in the suit that Smyth suffered from "tunnel vision" on the job and was unable to process information as it was presented to him, leading to Box's fatal shooting and numerous unnecessary and avoidable uses of force and police car chases.
In 2015, Smyth's fellow SWAT members reported that he "continues to make mistakes and to overreact to scenarios with a consistency that is not in line with his tenure on the team," according to the lawsuit.
A member of the SWAT team had documented his observation in 2015 that Smyth's "decision making and overreaction have the potential to lead to someone being seriously injured, or killed, on a real world operation," according to court records.
[RELATED: Research: Stress, training and the objective reasonableness standard]
The two troopers had gone to the Box home southwest of Grants Pass just before 11 p.m. that day to investigate a report that Box had assaulted his 24-year-old daughter Kelsey Box, who may have suffered a broken nose.
On their way to the rural home, the troopers learned from dispatch that Kelsey Box was on her way to the hospital. State police initially argued in their challenge of the suit that the troopers had implied consent to be on the property because of the initial call to police.
When Smyth and West arrived, the troopers parked out of sight, walked partway up the driveway and hid behind trees, according to court records.
They saw Box walking from his shop to the rear patio of the house as he talked on the phone to his wife, who wasn't home. He disappeared from the troopers' view and went back inside the house, unaware of their presence, according to Adams and Park.
Seconds later, Box's dogs began barking and growling and the two troopers moved toward the rear patio area, according to the family's lawyers.
From that spot, Smyth called Box out of his house but didn't identify who he was, according to the lawyers.
Box responded calmly, "Hang on," and then came out his back door, still on the phone with his wife, according to the lawyers. As Box walked across the back patio in the direction of the troopers, Smyth for the first time announced, "State police, you're being recorded," according to court documents.
Box appeared surprised, saying, "Oh," and then was heard saying something like, "Let me show you I'm getting this outta here," according to the family's lawyers.
Box had a pistol in his front right pocket. As he moved to place the pistol in the bed of his pickup parked by the patio, Smyth saw the gun, shouted "Don't go for that gun'' and fired seven rounds at Box, striking him five times.
"I've got both hands on my gun, and I see my gun crystal clear. And I don't see his head and I don't see his legs. I have nothing, I've got tunnel vision, I don't see anything," Smyth told investigators, according to court records.
[RELATED: The role of vision in officer-involved shootings]
West also began firing, seeing Box touching his gun and starting to pull it out, according to court records. West fired four rounds, striking Box once, according to the investigation.
The two troopers fired within two seconds of seeing Box, according to the suit. Bullets penetrated Box's left arm, chest, abdomen, pelvis and left leg.
He was transported to Three Rivers Medical Center in Grants Pass and died about 45 minutes later, according to the suit.
The county district attorney's office found the shooting justified.
Lawyers for the Box family said in court records that state police "improperly withheld" records on Smyth's past problems on the job. They learned of the records from another lawyer involved in a separate civil suit against the state police on an unrelated case.
The settlement achieves the family's goal of securing an apology from the state police and "bringing a measure of public accountability" to the state police through the significant payout, according to Adams and Park.
Bernadette Box said she hopes state police "take all this to heart and learn from it."
"You killed my husband. It took you 7 years and 9 months to admit that. He was a good man. The kind of man who would help anyone if they needed it," she wrote in a reply to the state agency's apology. "He was a hard worker who did right by his family. We were supposed to grow old together. We were supposed to enjoy our grandsons and our blended family that we worked so hard to maintain."
"No other family," she wrote, "should have to go through what my family has gone through."
©2023 Advance Local Media LLC.
Visit oregonlive.com.
Distributed by Tribune Content Agency, LLC.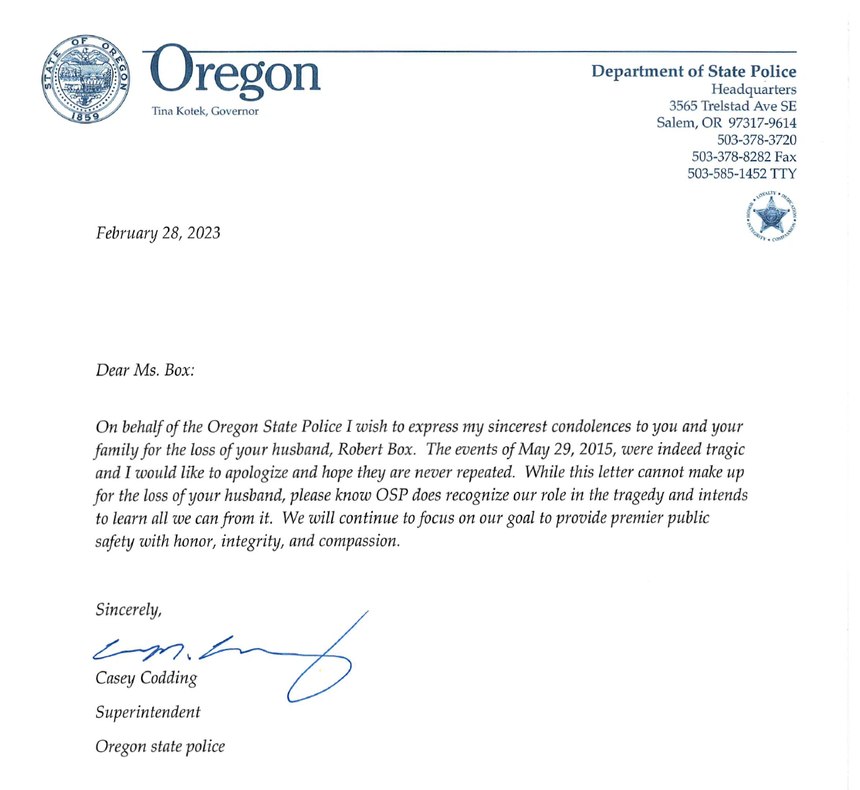 McClatchy-Tribune News Service