Sheriff: 1 wounded amid gunfire, chaos at NC haunted house
Deputies found a "chaotic" scene involving about 1,000 people, some of whom refused to disperse, authorities said
---
By Mark Price
The Charlotte Observer
ROWAN COUNTY, N.C. — One person was wounded, five juveniles were arrested and three guns were seized late Saturday after widespread fighting erupted at a haunted house Halloween attraction in China Grove, N.C., according to the Rowan County Sheriff's Office.
Investigators say deputies were called to the Reaper's Realm Haunted house at 8:25 p.m. Saturday to investigate a report of shots being fired. China Grove is 34 miles northeast of Charlotte.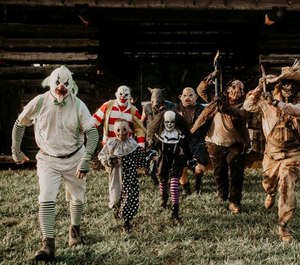 Deputies found a "chaotic" scene involving about 1,000 people, according to a press release.
"Deputies had to deal with multiple large and small groups of persons that were fighting each other, and there were some shots fired by persons at the event," the release said.
"Law enforcement units from multiple agencies in Rowan County, along with the NC State Highway Patrol and Concord Police Department were requested to respond to assist in restoring order at this location."
Officers eventually resorted to use of "pepper spray on some of the persons at the location who refused to ... cease fighting and disperse," the release said.
Rowan County EMS and multiple fire departments were also called to treat people hurt during the fights, officials said.
"One person, who was from the Charlotte area, did present himself at the Atrium Health's Carolinas Medical Center for treatment of a gunshot wound to his foot," a release said.
"This victim said that he was initially unaware that he had suffered a gunshot wound until he had left the Reaper's Realm location, and that he must have suffered the wound as he was running away from the location where there were shots fired. This victim was treated and released, and provided only limited information about what happened."
Five juveniles were arrested and three handguns were confiscated, officials said. "Parents of the juveniles will be contacted, and the juveniles will be charged and processed through the juvenile court system," the release said.
A silver Dodge Ram was seen rushing from the site, "and the vehicle's occupants are suspected to have fired a number of shots during this incident," officials said.
An investigation of the incident is underway and multiple crime scenes are involved, officials said.
Tips can be offered at 704-216-8711 for 1st Lt. Rodney Mahaley or at 704-216-8662 for Detective Josh Simmons, the release said.
A Facebook page for Reaper's Realm says it opened for the season on Saturday, due to a rain delay on Friday. The 6,000 square foot site includes a "haunted farmhouse, haunted trail, slims slaughter house, hilltop asylum, zombie laser tag, the mine shaft ... all for one ticket price."
©2020 The Charlotte Observer (Charlotte, N.C.)
McClatchy-Tribune News Service