K-9 supervisory liability under federal law
A chronic failure to train and to document supervisory monitoring of training is likely to land handlers, supervisors, and the municipality in court
---
Much has been written about the potential liability exposure faced by canine handlers in the course of their duties, but the issue of supervisory liability is rarely addressed. This issue has serious implications — not only for supervisors themselves, but for the municipalities that employ them and the handlers they supervise.
Ultimately, a claim against a supervisory officer will arise out of some incident involving one of his or her subordinate officers. However, under federal law the supervisor's liability cannot be based solely upon the wrongdoing of the handler. The legal theories of respondeat superior (a principal must answer for the acts of his agent) and vicarious liability (the negligence of an agent is attributed to his principal) do not apply in a federal claim against a police supervisor.
Supervisory liability unde r § 1983 must be supported with evidence that: (1) the supervisor had actual or constructive knowledge that his subordinate was engaged in conduct that posed a pervasive and unreasonable risk of constitutional injury to citizens like the plaintiff; (2) the supervisor's response to the knowledge was so inadequate as to show deliberate indifference to or tacit authorization of the alleged offensive practices; and (3) there was an affirmative causal link between the supervisor's inaction and the particular constitutional injury suffered by the plaintiff. See Shaw v. Stroud, 13 F. 3d 791, 799 (4th Cir. 1994).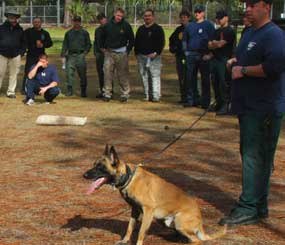 Basis for a Claim Supervisory liability claims are based upon (1) a failure to train or (2) a failure to supervise; the two theories are often used in tandem. Training includes the adoption and application of a canine use policy. A negligent training claim against a supervisory officer is often expanded to a claim against the municipality itself since the municipality is deemed to have the ultimate responsibility for establishing and monitoring officer training.
"The County is liable under § 1983 for failure to train if the Plaintiff can prove three elements: (1) that a training program is inadequate to the tasks that the officers must perform; (2) that the inadequacy is the result of the [County]'s deliberate indifference; and (3) that the inadequacy is 'closely related to' or 'actually caused' the plaintiff's injury." Hill v. McIntyre, 884 F.2d 271, 275 (6th Cir. 1989) (citing City of Canton v. Harris, 489 U.S. 378, 389-91, 109 S.Ct. 1197, 103 L.Ed.2d 412 (1989).
Federal courts require evidence that the failure to train was so severe as to amount to deliberate indifference to the constitutional rights of those with whom the poorly trained officers are likely to come into contact. Where the failure to train rises to the level of deliberate indifference, it is said to amount to an unconstitutional "custom, policy or practice" on the part of the municipality for purposes of 42 USC § 1983 claims. A chronic failure to train or the toleration of improper training will form the unconstitutional "custom, policy or practice" that gives rise to municipal liability. Under federal law, "[i]solated violations are not sufficient to demonstrate a policy or custom which resulted in the infringement of the plaintiff 's constitutional rights." Bennett v. City of Slidell, 728 F.2d 762, 768 n. 3 (5th Cir 1984).
Plaintiff's Burden
In order to establish a failure to train that amounts to "deliberate indifference," the plaintiff must satisfy three elements: "(1) a policymaker knows to a moral certainty that her employees will confront a given situation; (2) the situation either presents the employee with a difficult choice of the sort that training or supervision will make less difficult or that there is a history of employees mishandling the situation; and (3) the wrong choice by the city employee will frequently cause the deprivation of a citizen's constitutional rights." Jenkins v. City of New York, 478 F.3d 76, 94 (2d Cir. 2007).
Campbell v. City of Springboro, Ohio (SD Ohio 4-26-11) demonstrates these legal concepts in the context of a police canine case. The canine handler involved deployed his dog to bite two misdemeanor suspects who appeared to be offering no resistance. In denying the city's and police chief 's motions to dismiss plaintiff's failure to train and failure to supervise claims, the Court noted that:
"[T]here is evidence in this case that in establishing the SPD's canine unit, Chief Kruithoff took few if any steps to ensure that the unit functioned in accordance with the law. He chose to essentially abdicate any duty he may have had to set policies governing the operation of the unit and to provide training for the officers who were supposedly charged with supervising the unit. Plaintiffs set forth sufficient evidence from which a jury could conclude that the supervision and training in this case were so lacking that the resultant violation of Plaintiffs' Fourth Amendment rights was almost a foregone conclusion." Id at 69.
The Campbell Court relied upon specific evidence in reaching its conclusion. In this case, it was established that (1) the canine had not undergone maintenance training for over one month, (2) the certification of the team in question had been allowed to lapse, (3) the canine unit supervisors were not trained in canine operations and did not insist upon regular maintenance training, (4) the chief made no effort to set standards or personally supervise what was going on with the canine unit, and (5) nobody bothered to amend the department's use of force policy to include canine. The Court found that this lack of training was neither isolated nor accidental.
"This is a case in which, aside from the initial training that Officer Clark and Spike undertook prior to Spike's certification, there was a complete, across-the-board absence of training and supervision with regard to the canine unit. Under such circumstances, the inadequate training and supervision may be fairly said to represent the policy of the city." Campbell at p 67.
An Object Lesson
Campbell demonstrates how easily a chronic training failure can mushroom into incidents that expose handlers, supervisors and the municipality to liability. In addition to compensatory damages, 42 USC § 1983 authorizes punitive damage awards and actual attorney fees to a plaintiff who can prove that he or she was harmed as a result of this failure to train.
I strongly recommend that every chief, unit supervisor, and handler spend time reading the full Campbell decision. Like every case that goes against you, Campbell provides a road map for avoiding the very fate that befell the City of Springboro and its chief. This case also demonstrates the peril that accompanies a failure to act. The supervisors in Campbell were not being sued for making the wrong training decisions — they were sued because they failed to make policy decisions at all.
Supervisors can protect themselves in a variety of ways. These include documenting steps taken to advocate for better training, to verify that certifications are being kept current, to monitor canine training, to review canine deployment records, and to develop, teach, and update canine policy.
The failure to adequately train for canine work creates a heightened risk of trouble for all involved. Canine work is a perishable skill for both handler and canine. In addition, canine work constitutes a use of force. A failure to train, a failure to have clear canine policies, and a failure to monitor the performance of the canine unit will ultimately give rise to incidents that will lead to the courthouse.
John M. Peters has been a trial attorney in Michigan for over 29 years, representing police officers and law enforcement agencies. He also founded K-9 At Work, a consulting business for the K-9 community. Contact him at jmp@peterslaw.com.