5 things to know about the Ford carbon monoxide hazard
Ford has faced multiple lawsuits alleging their Explorer is making police officers and civilians sick
---
By Police1 Staff
Police departments across the country are searching for answers after a potential design flaw in Ford Explorers allegedly resulted in multiple incidents of carbon monoxide poisoning. The popular law enforcement vehicle is now at the center of an investigation by the National Highway Traffic Safety Administration and the company has faced multiple lawsuits.   
1. Cops are getting sick, and their cruisers might be the culprits.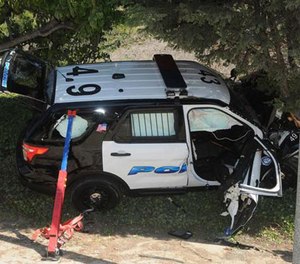 One of the first police-involved incidents that garnered widespread attention occurred in Newport Beach, California in 2015. An officer driving a Ford Explorer to a non-emergency call crashed into a tree after falling ill and losing consciousness behind the wheel.
The officer, Brian McDowell, suffered a dislocated shoulder, fractured eye socket and traumatic brain injury. After months of medical tests failed to reveal what had caused McDowell to pass out, the officer discovered hundreds of complaints alleging the Explorer had a problem with carbon monoxide leaking into the cabin. The officer filed a lawsuit against Ford.
The Austin Police Department is investigating multiple cases of cops who suspect they were poisoned or nearly poisoned by carbon monoxide in their vehicles. After one LEO nearly passed out in March, the PD installed carbon monoxide detectors inside the cars in an effort to combat the issue. The officer who was sickened in March has yet to return to full duty, and many agencies in Texas have since installed detectors inside their Explorers as well. Other states are also following suit. The Teton County Sheriff's Office and the Madison County Sheriff's Office in Idaho, for example, put in the devices earlier this year.
Tony Liford, TCSO's sheriff, told the East Idaho News:
"What's concerning to me is we got no notification from Ford that this was a problem. I would expect notifications to law enforcement agencies since this is such a popular vehicle."
In April, a Henderson, Louisiana officer lost consciousness behind the wheel of her Explorer and flipped it. Doctors determined the incident was the result of carbon monoxide poisoning at "near lethal" levels.
2. What is the suspected cause?
According to reports, the issue is believed to be caused by the vehicle accelerating and the air conditioning running in recirculation mode.
3. The incidents have spurred multiple lawsuits and a federal investigation.
Last year, the National Highway Traffic Safety Administration opened an investigation into 2011-2015 Ford Explorer models after receiving over 100 complaints related to the carbon monoxide problem. Although the 2016 and 2017 models are not currently under investigation, the NHTSA has also received complaints for both of those versions of the vehicle. The NHTSA is currently looking into the Henderson incident, which occurred in a 2016 Explorer.
Ford has also faced multiple lawsuits. One, filed in Florida, was settled in 2016. Another in Illinois was dismissed earlier this year.
4. How is Ford responding to the issue?
The company issued a statement in response to the allegations:
"We take the safety of our customers very seriously and will cooperate with NHTSA on this investigation, as we always do. In rare circumstances, there have been instances where customers detected an exhaust odor in Explorers. While it poses no safety risk, customers can and are encouraged to contact their local Ford dealer to address any concerns.​"
The company also sent two technical service bulletins to dealerships – one in 2012 and a follow up in 2014 – with software updates and instructions to replace and seal certain parts of the vehicle. However, complaints have persisted.  
A recall has not been issued.
5. What are the signs of carbon monoxide poisoning?
Because carbon monoxide is a colorless and odorless gas, it can be difficult to determine hazardous exposure until it's too late.
Signs and symptoms of poisoning may include:
Dull headache
Weakness
Dizziness
Nausea or vomiting
Shortness of breath
Confusion
Blurred vision
If you're experiencing these symptoms and believe you've been poisoned, seek medical attention immediately.