Air freshener leads to gun arrest
An officer's objectively reasonable mistake of law can provide reasonable suspicion for a seizure
---
This article was featured in Lexipol's Xiphos newsletter, a monthly legal-focused law enforcement newsletter authored by Ken Wallentine. Subscriptions are free for public safety officers, educators and public attorneys. Subscribe here!
An officer saw Napoleon Jackson driving on a Chicago street with Kittrell Freeman as a passenger. The officer noticed something hanging from the rearview mirror that appeared to be an air freshener and stopped Jackson for violating an ordinance prohibiting anything that obstructed the driver's clear view through the windshield.
When the officer approached Jackson, she told him she pulled him over for something hanging from the rearview mirror (not citing the precise violation of something hanging and obstructing the driver's view). She and the backup officers saw a rifle wedged between the front seats.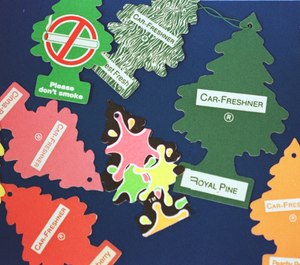 The officers searched the car and found two handguns under the driver's seat. The officers arrested Jackson and Freeman for possession of a firearm by a felon.
Jackson and Freeman challenged the stop, arguing the officer misunderstood the law and stopped them for a hanging object, not for a hanging object that blocked the driver's view.
At the suppression hearing, the officer testified she believed the law prohibited a driver from having anything obstructing the driver's view and that the air freshener did obstruct the driver's view. She said her "verbiage was off" because Jackson and Freeman made her nervous and she was trying to gain control of the situation.
The court held the stop was proper. A valid traffic stop requires only reasonable suspicion of a traffic violation.
Citing the recent Supreme Court decision in Kansas v. Glover (140 S. Ct. 1183 (2020)), the court held:
Although a mere 'hunch' does not create reasonable suspicion, the level of suspicion the standard requires is considerably less than proof of wrongdoing by a preponderance of the evidence, and obviously less than is necessary for probable cause."
The officer's slight error in communicating the reason for the stop to Jackson and Freeman was inconsequential. The officer wrote a citation for the correct violation, noting that the driver's vision was obstructed. Moreover, the officer's subjective belief about the contours of the violation did not matter because there was an actual violation. An officer's objectively reasonable mistake of law can provide reasonable suspicion for a seizure. Only if the officer had been mistaken about the law and there had been no violation of the obstructed vision ordinance would Jackson and Freeman have a basis to challenge the stop. Thus, the stop was lawful and the illegally possessed guns were lawfully discovered.