Former dominatrix loses fight to keep job as LEO
A New Jersey sheriff's officer who appeared in bondage films as a dominatrix was fired after fighting to keep her job
---
By David Boroff
New York Daily News
JERSEY CITY, N.J. — A New Jersey sheriff's officer who appeared in bondage films as a dominatrix was fired on Wednesday after fighting to keep her job.
A hearing officer made the decision to fire Kristen Hyman, and Hudson County Sheriff Frank Schillari told the Jersey Journal he agrees with the decision.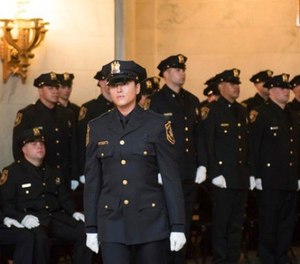 She was suspended six days before her academy graduation last year after she did not disclose that she appeared in the films and sometimes saw clients privately for money. Hyman told investigators she never appeared naked and didn't perform sex acts in the videos, according to court documents obtained by the newspaper.
A judge rescinded the suspension, and she was sworn in June 8. She then went on paid administrative leave pending the hearing.
A source told the Jersey Journal that lying about her previous work on her sheriff's office application was a major reason why she was dismissed. She may not have been accepted to the academy if she was truthful, the source told the newspaper.
The videos in question were produced between 2010 and 2012, and made the sheriff's office a "subject of inquiry and ridicule among law enforcement," the department previously said.
Hyman is described in the films as being "a true sexual sadist who hurts people not because she has to, but because it truly brings her pleasure," according to a website that promotes her films.
She was featured in the fetish videos using "whips," and she kicked "the groin area to inflict pain upon the recipient," according to court documents previously obtained by the Jersey Journal.
©2018 New York Daily News
McClatchy-Tribune News Service