Fraternal Order of Police is 'reassured' by Biden's SCOTUS pick
Judge Ketanji Brown Jackson, who comes from a police family, would "treat issues related to law enforcement fairly and justly," said FOP President Patrick Yoes
---
By Suzie Ziegler 
WASHINGTON — On Thursday, the Fraternal Order of Police gave a positive assessment of President Joe Biden's nomination to the U.S. Supreme Court. 
Judge Ketanji Brown Jackson, who comes from a police family, "has the temperament, intellect, legal experience and family background to have earned this appointment," writes Patrick Yoes, the FOP National President.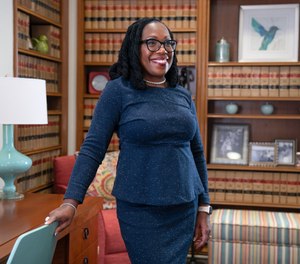 Biden nominated Jackson last week after Justice Stephen Breyer announced his retirement, the White House said. 
According to Yoes, Jackson has two uncles who made careers in law enforcement – one as a sex crimes detective, and one who would become Miami's Chief of Police. Her brother also worked as an undercover officer in a Baltimore drug-sting unit. 
"[Jackson] should know quite well the difficulties and dangers our officers face in the line of duty every single day," Yoes said. 
Although the FOP and Jackson have not always been perfectly aligned on issues, such as Jackson's efforts to reduce mandatory minimums, Yoes writes that "good faith efforts by all of the groups and individuals involved, including Judge Jackson," led to "important compromises." Those compromises culminated in passing the First Step Act, a bipartisan criminal justice bill, Yoes said. 
"We are reassured that, should she be confirmed, she would approach her future cases with an open mind and treat issues related to law enforcement fairly and justly," Yoes continued.  "We wish her well as the confirmation process begins."