Justice Dept. issues new rules, constraints for police watchdogs
Law enforcement groups reacted positively to the changes, saying that the memo addressed "many major concerns"
---
By Suzie Ziegler 
WASHINGTON — On Monday, Attorney General Merrick Garland announced new rules for federal monitors that oversee police reforms in local jurisdictions, reported The Washington Post. The rules include limits on watchdog groups' tenure and budgets and require them to have more training. 
Garland outlined the new standards in an online speech to the International Association of Chiefs of Police. The move comes after a four-month Justice Department review of policing aimed at restoring public confidence, the Post reported.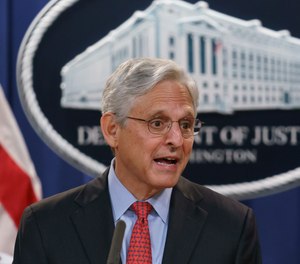 Since Garland was appointed this year, his office has launched several investigations into police departments in Minneapolis, Louisville and Phoenix. These investigations can stretch on for years, and typically bill local taxpayers between $1 million and $2 million per year, according to the Post. 
In his speech, Garland said that "monitors must be incentivized to efficiently bring consent decrees to an end. Change takes time, but a consent decree cannot last forever." 
Under the new rules, monitoring teams would be subject to term limits and periodic performance reviews, according to the Post. Monitors would also have to meet certain federal standards before hiring, and they would have to undergo training. 
Law enforcement groups heralded the changes. 
"These changes go a long way in improving the manner in which public safety is enhanced in cities large and small," said James Pasco, executive director of the National Fraternal Order of Police, to the Post. 
Chuck Wexler, executive director of the Police Executive Research Forum, told the Post that his group has lobbied for almost two decades for greater oversight of federal monitors. 
"This memo addresses many, if not all, of the major concerns we have had," Wexler said. "This will help restore credibility into this process."