San Diego settles in-custody death case for $12M after judge threw out previous award
$85M in damages was thrown out after a judge said the jury may have been influenced by outside factors such as sympathy for Lucky Phounsy's family or anger at the sheriff's department
---
By Greg Moran
The San Diego Union-Tribune
SAN DIEGO — San Diego County will pay $12 million to the widow and children of Lucky Phounsy, who died after being beaten, repeatedly shocked with a stun gun, and hogtied in a struggle with sheriff's deputies nearly eight years ago.
The settlement ends a long-running case that focused attention on the Sheriff's Department's use of maximum restraints, a technique in which someone is handcuffed and their ankles wrapped with a strap, which then connects to the cuffs while the person lies face-down with their knees bent. It can lead to someone suffocating — known as "positional asphyxia" — if not done correctly.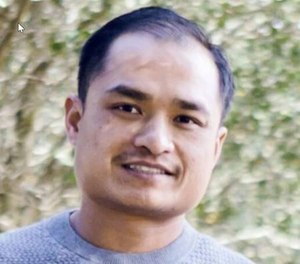 Some 30 agencies around the nation have banned the use of maximum restraints in recent years, but not San Diego County.
How the restraints were used against Phounsy — and how the department trains deputies to use them — was a major focus of the case over two separate trials in federal court. In the autumn of 2021 a jury deadlocked on whether or not the county was liable.
Jurors came to a different conclusion after a second trial in March. They found the county was responsible for his death and awarded a record $85 million in damages. Lawyers said it was the largest jury award in a civil rights case involving a death in custody of law enforcement in the nation.
That amount was later thrown out by U.S. District Judge Marilyn Huff, who ruled in August that the $85 million award was "far out of proportion" to what the evidence showed. However, she upheld the jury findings of excessive force and negligence on the part of deputies, as well as a key finding that the Sheriff's Department's training on how to avoid using excessive force on someone who was being restrained was deficient.
She ordered a third trial just to determine a new damages award, but the settlement finalized Wednesday means that trial will not be necessary.
Tim Scott and Mark Fleming, lawyers for the Phounsy family, said the settlement means the family avoids another agonizing trial and reflects the jury's findings that deputies killed Phounsy and he bore no fault.
"Finally, the county has acknowledged responsibility for his death," they said in a statement. "The Phounsy family is hopeful that Lucky's tragic yet avoidable death will encourage the county to ban the dangerous and unnecessary practice of hogtying citizens, as has been done throughout the country."
Whether that change would be made is unknown. As a candidate for the post in June, Sheriff Kelly Martinez told the Union-Tribune she was open to reviewing the policy on maximum restraint usage but did not say if she would ban it.
The Union-Tribune asked the department this week if the new sheriff would review the policy but did not receive a response.
Phounsy, 32, got into a prolonged confrontation with deputies on April 13, 2015, that lasted 45 minutes. He had not slept much for several days and was dealing with a mental health crisis during a family get-together at a relative's home in Santee when he became convinced his family was in danger and called 911 himself.
Two deputies arrived, and when they attempted to handcuff Phounsy inside the home, a struggle ensued and quickly turned violent. Phounsy was punched, struck with a baton, zapped by an electric stun gun several times and eventually had his hands and ankles bound together in a hogtie fashion. He was also administered two doses of a sedative.
He was taken outside the home and laid face down on the driveway, where he remained tied up and covered with two spit socks — mesh hoods put over someone's head — for 30 minutes until an ambulance arrived, according to court records in the lawsuit.
On the ride to the hospital, his head was forcibly held down by Richard Fischer, one of the deputies who responded. Fischer would later be fired from the department after pleading guilty to assault and battery charges filed after numerous women accused him of groping them while he was on duty.
Phounsy's heart had stopped by the time he arrived at the hospital, and several days later his family removed him from life support.
The medical examiner later ruled he died as a result of the long struggle with deputies, combined with the effects of the drug ecstasy he had taken several days before. The family contended he was the victim of excessive force and poor training.
Phounsy's 2015 death marked at least the eighth time over the proceeding 12 years that someone died at the hands of deputies after being subjected to maximum restraints. Before the Phounsy case, the county had paid out a total of $1.4 million in settlements stemming from lawsuits in four of those cases, records show.
The $12 million settlement is the latest in a string of multimillion-dollar payouts by the county for conduct by deputies over the past nine months that has cost the county $20 million, and could cost as much as $25 million.
In June, the county agreed to pay $8.1 million to the family of Nicholas Bils, who escaped from a patrol car outside the downtown central jail and was fatally shot in the back by a sheriff's deputy in May 2020. He was running away and unarmed. The former deputy, Aaron Russell, was charged with his murder and later pleaded guilty to manslaughter and was sentenced to a year in jail.
Then in October, a federal jury awarded $5 million to a man who was bitten by a sheriff's dog while he was handcuffed during a traffic stop in Fallbrook in 2014. The jury found that the man, Mikail Myles, was the victim of excessive force when he was struck by Deputy Jeremy Banks and bitten by the dog, Bubo.
The county is contesting the verdict in post-trial motions, arguing the amount is excessive and asking that it be thrown out and a new trial ordered.
©2023 The San Diego Union-Tribune.
Visit sandiegouniontribune.com.
Distributed by Tribune Content Agency, LLC.
McClatchy-Tribune News Service