Former Fla. SRO getting $8,702 a month in pension
Scot Peterson, the sheriff's deputy vilified for failing to confront the Parkland school shooter, began to receive his pension in April
---
By Stephen Hobbs
Sun Sentinel
FORT LAUDERDALE, Fla. — Scot Peterson, the sheriff's deputy vilified for failing to confront the Parkland school shooter, has begun receiving a state pension of $8,702.35 a month.
Peterson resigned and retired Feb. 22, a week after the massacre at Marjory Stoneman Douglas High School, where he waited outside as Nikolas Cruz killed 17 people and wounded 17 others.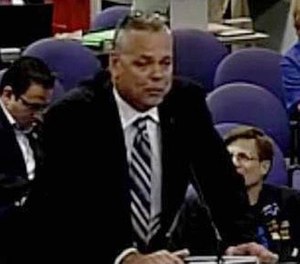 Peterson began to receive his pension in April, according to the Florida Department of Management Services.
The 55-year-old Peterson, a deputy for 32 years, was paid $101,879.03 last year, according to sheriff's office records. Until the shooting, he was considered a trusted school resource officer at Stoneman Douglas, according to annual reviews of his performance.
On Feb. 14, surveillance video showed Peterson waiting outside the school as Cruz prowled the halls. President Donald Trump branded him a coward, and Sheriff Scott Israel began an investigation into his actions. Israel said Peterson should have "went in. Addressed the killer. Killed the killer."
After the shooting, Peterson said in a statement that he heard gunshots but believed that they were coming from outside of the school and not inside the building where the shooting took place.
Peterson has not been criminally charged, but his pension benefits could be in question after a state inquiry into how police responded to the shooting.
Florida law allows for the forfeiture of pension benefits based on a conviction for certain offenses, Erin Rock, secretary for the Department of Management Services, wrote in a letter to Broward State Attorney Michael Satz and Sheriff Israel.
Timothy Donnelly, an assistant state attorney, responded that the agency is waiting for the Florida Department of Law Enforcement to complete its investigation, ordered by Florida Gov. Rick Scott.
Peterson, a native of Illinois, started with the sheriff's office in July 1985, after studying at Miami-Dade Community College and Florida International University.
©2018 Sun Sentinel (Fort Lauderdale, Fla.)
McClatchy-Tribune News Service