5 questions to ask when hiring a PIO
A well-rounded public information officer understands there's more to the role than just pushing out information
---
By Georgette Allen
Law enforcement has changed drastically throughout the years, from the way officers respond to calls for service to embracing new levels of transparency regarding how information about an agency's work is disseminated. Police-community relations are more important than ever before; public information officers (PIOs) play a vital role in fostering these relationships.
Historically, PIOs were the face of the department, providing media outlets and the general public with information about critical incidents. They typically were sworn personnel and handling public information and media relations may not have been their full-time jobs. Often, the PIO role was assigned so it wasn't always fully embraced by the officer or the department. Having a PIO at times was more of a necessity to meet Freedom of Information Act requirements and provide the public with "what they need to know." The only time departments issued a press release or contacted the media was when a significant event occurred and public safety was at stake, or when the department needed the public's assistance.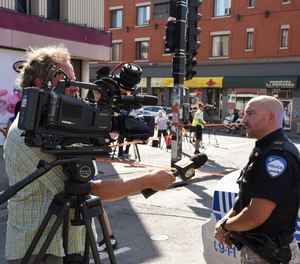 Fast forward to the present: Departments are embracing police-community relations and the role of the PIO has evolved. Agencies across the country now employ full-time PIOs and are investing in their career development as they would other officers. It's not uncommon to see non-sworn professionals in these positions, which are sometimes even occupied by former journalists. Some agencies have entire public relations teams with a communication director, several PIOs and a social media manager. Police departments now understand the value PIOs bring to their organizations and give them a seat at the command-level table, embracing them as strategic advisers.
Departments must work to build relationships with their communities before a crisis strikes. A well-rounded PIO who understands there's more to the role than just pushing out information is crucial to building these relationships and maintaining a department's image. 
When hiring a public relations professional, how do you find an individual who will be a good fit for your organization? Here are five questions to ask a PIO candidate.
1. What is your opinion of law enforcement?
This is an obvious question. If you're hiring a non-sworn individual from outside of the department to manage your organization's image, you need to know how the individual feels about law enforcement and why he or she wants to represent the profession.
2. Why do you want to work for our department?
This is a basic but important question. Recruiters ask this of aspiring officers and you should be looking for answers similar to the ones they seek. Don't forget to check social media accounts before the interview. If the candidate is a former journalist, Google his or her work, as this can provide insight as to why the person is interested in representing law enforcement and/or your department.
3. How will you get to know and understand our community?
A PIO must understand police-community relations, the importance of this partnership and what it takes to cultivate these relationships. Part of this process involves getting to know the community. If the candidate is not from the area, an important question to ask is, "How will you get to know and understand our community?" The hiring team should look for answers that include learning about the community's demographics, culture and history with law enforcement, both positive and negative. A great candidate will have already conducted some basic research and be able to provide background about the community and its current relationship with law enforcement.
4. What is our brand and how would you improve it if needed?
A well-rounded PIO will understand your agency's brand and may have ideas on how to improve it. This question not only gives the agency a good feel of whether the candidate is adept at building and improving a brand, but it also shows if the candidate does due diligence and prepares with appropriate research. After all, a significant amount of a PIO's time is spent preparing for media interviews and communicating with the media during crises. Look for answers that include creating opportunities for officers to have positive interactions with their community, publicizing officers' good work, monitoring the agency's online reputation, and analyzing and adjusting communication strategies as needed.
5. Give an example of a time you managed communication during a crisis. What went well, what didn't go well and what lessons did you learn?
A desirable candidate will have experience in crisis communications. A preferred candidate will not only have the experience but will acknowledge when things don't go well and be able to reflect on and learn from the experience to be better prepared for future crises. No two incidents are ever the same. While we can, and should, prepare for a crisis, such situations are dynamic and change rapidly. Beware the candidate who claims perfection; this individual may believe there's nothing left to learn.
Reference
Cao L. The public relations role of the police public information officer in the U.S. law enforcement agencies. Police Quarterly, 2002. 5. 152-180.
---
About the author
Georgette Allen served 12 years with the Farmington Police Department: six years as a victim advocate and six as public information officer. She holds a Bachelor of Science in Technical Communication from Arizona State University and a Bachelor of Social Work from New Mexico Highlands University. Georgette was promoted in 2019 to PIO for the City of Farmington.