IACP 2022: How law enforcement can work effectively with the media
Yes, police chiefs and PIOs can build trusting relationships with local and national media that are beneficial to the department and the community they serve
---
DALLAS — Police chiefs had a chance to turn the microphones on three media correspondents at a session on covering law enforcement at the International Association of Chiefs of Police conference. Julie Parker, a former TV reporter, moderated the panel and facilitated questions from several attendees in a fast-paced and engaging conversation. The panelists were:  
Luke Barr, homeland security and law enforcement reporter, ABC News; 
Josh Campbell, law enforcement and national security correspondent, CNN; and  

Jennifer Emily, public safety editor, Dallas Morning News.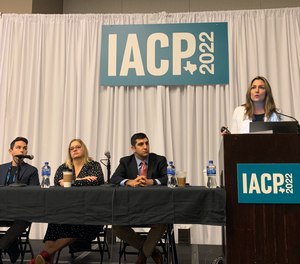 Using lessons from actual incidents – from the Highland Park parade to school shootings to hoax reports to the Colleyville synagogue hostage crisis – the panelists shared their insights and expertise on covering such events. They also discussed why some things that police might find mundane, like what they carry in the trunk of a patrol car, are potentially of interest to the public. "We might be in a different place in the perception of law enforcement if departments could tell their story more often," Parker said.  
Memorable quotes on media briefings 
Reporters are trained to deliver sound bites to an audience. Here are four memorable quotes from the panel discussion specific to media briefings.  
"Even if you don't have anything new to present, provide the media a time of the next briefing." – Josh Campbell 

"Be honest and forthcoming. It lessens the blow for both law enforcement and the community." – Jennifer Emily 

"Holding briefings at scheduled, regular times is the bare minimum. We need to put content on the air. We want to hear from the chief and all the entities." – Luke Barr 

"Transparency builds trust. When you pop the bubble on that bad news that builds trust with the media covers you." – Julie Parker 
Key takeaways from a conversation with correspondents 
The panelists were forthcoming with advice and encouragement for public information officers and police chiefs. Here are five top takeaways from the discussion.  
1. Media is a crime-fighting tool 
Campbell, a former FBI special agent, described how local law enforcement agencies used the media to describe and find the Highland Park parade mass murderer. The media distributed information about the suspect's vehicle and description, which eventually led to a citizen reporting the suspect's location.  
There are other instances when law enforcement may want to use the media to assist an investigation, including locating a suspect, bystanders, or evidence.  
2. "Pop the bubble" to gain trust 
Sometimes law enforcement has news to share with the media about previous encounters with a suspect. Parker encourages law enforcement agencies to "pop the bubble" by releasing news and details that might be considered negative to the agency. Getting the information out as soon as it is available can both build trust and prevent the "bad news" from leaking.  
Barr encouraged police chiefs working with national media to seek out correspondents who specialize in law enforcement. Their depth of experience might help them better contextualize the incident, ask insightful questions and deliver accurate information to their audience.  
3. Create relationships before incidents 
Many departments in the room said they've been successful at "going off the record" to dispel rumors or redirect media to sources who can speak to them.  
Emily cautioned attendees to make sure they have a shared understanding of "off the record" with the journalist. "Make sure your 'off-the-record' is the same as the journalist's 'off-the-record,'" she added. 
Campbell encouraged attendees to build trust with local and national correspondents by sharing their successes, perhaps giving off-the-record tips that an arrest is pending in a major case. A trusting relationship is beneficial to law enforcement, the reporters and the community, he said.  
4. Share your good news 
Each of the panelists has reported stories they found on departments' social media channels. Campbell had several examples of PIOs going out of their way to do "the leg work" to help him tell a story that highlighted the department's good work.  
"Have a press release. Include pictures and video," Barr said. "We want to show what happened. If those are ready to go, it helps us tell the story even better." 
Emily described how recent news about the Dallas Police Department standing up a mental health unit came to the newspaper. The department helped find officers willing to talk and showcase what Emily described as a "forward-thinking department" that became front-page news.   
"You all know the good stories that are out there, but you might take for granted the stories the public might find super interesting," Campbell said. "Have your PIO talk to the journalist to try to pitch them on it."  
5. Best practices and top concerns 
At the end of the panel discussion, Parker asked the panelists to give their best practices and top concerns with the audience.   
Barr's top tip to attendees was to "pick up the phone and call." In his experience, email and text messages leave room for interpretation and confusion. He's most concerned about departments that won't give an update. He doesn't like reporting that a department "didn't respond to calls," as he believes this is a bad look for the department. 
Emily is most concerned about the lack of access to public records. She reminded attendees that "we don't want to hurt the investigation and we care about the community," but there is information available that is truly a public record and should be released. Emily's best practice recommendation is for PIOs and chiefs to have open ongoing conversations with journalists, ideally through department representatives who are regularly available and willing to give data and information to help explain stories.  
Campbell's most frequent challenge is getting a response from a department. He encouraged attendees to call back even if they don't have anything to share with the media. He wants the PIO and chief to realize the benefits of engagement.  
Parker's top tip was for departments to live stream the news conference. "If the media is live streaming the news conference, the department should live stream the news conference," Parker said. News consumers can then choose between a media live stream or the department's live stream. 
Some key takeaways from an #IACP2022 conversation with media covering law enforcement:

🚨Don't assume the public knows what you know

🤳🏼The sooner you confirm a non-story, the sooner the media moves on

🚪Access is critical if you want your story to be told 1/2 pic.twitter.com/PjqwPVSIMl

— Jeremy Warnick (@jaywarnick) October 17, 2022
Other takeaways:

📱Pick up the phone and call (it's becoming a lost approach)

🎥To help secure media coverage, offer pictures/video

🎤What motivates reporters is to tell the stories the public wants to see

📚Veteran & law enforcement reporters often understand context

2/2

— Jeremy Warnick (@jaywarnick) October 17, 2022
Learn more about media relations 
Police1 has dozens of articles, videos and other resources on media relations, social media and the role of the public information officer, a role that panelists described as one of the most important in the department.