'Sad is the piercing pain of those left behind': Police1 columnists pause to honor fallen LEOs
Five columnists drive home the importance of honoring the fallen, as well as consoling and mourning with the bereaved during Police Week and beyond
---
By Police1 Staff
In acknowledgment of National Police Week, we asked Police1 columnists to share their thoughts as we gather to honor those law enforcement officers who have lost their lives in the line of duty for the safety and protection of others, and honor the families of the fallen.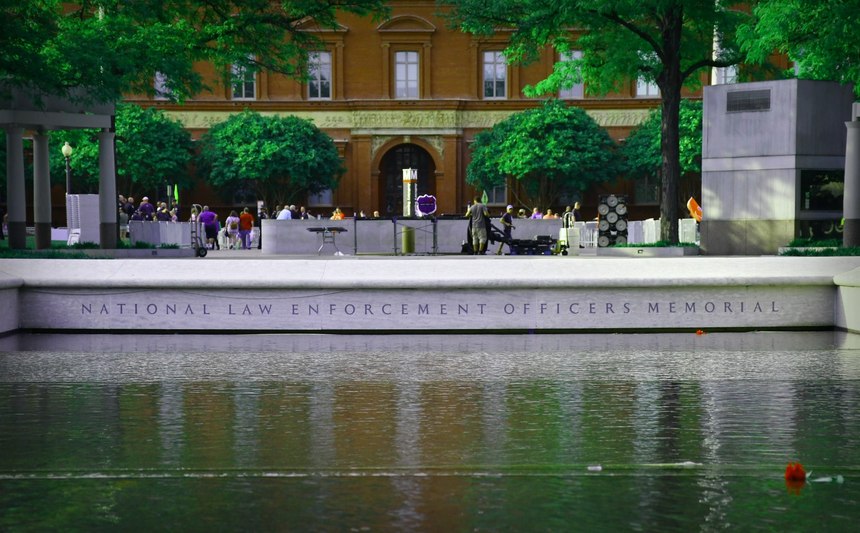 Love, appreciation and respect for the fallen
Forty years ago, as a rookie officer with the San Francisco Police Department, I sat in the intensive care wing of San Francisco General Hospital clutching the hand of my sergeant as he lay there dying.
It was my first experience of being so close to someone I knew and respected, knowing that I couldn't do anything more than hold his hand and speak encouraging words of recovery when I knew full well that his recovery had only of the slimmest of possibilities.
Sergeant John Macaulay was the epitome of the model supervisor: smart, articulate, fit, sincere, nurturing and always working to get the most from his troops. An ex-military man, his uniform was always crisp, shoes shined, with not a hair out of place. His police work was exemplary. He modeled textbook behavior, knowing every policy and procedure. In my eyes, he was indestructible.
The shooting unfolded quickly on a traffic stop, involving a suspect wanted in a theft-related incident.
It hit home to me then, sitting there in the dark hospital room, that we are all vulnerable. And yet we still do it. We take risks to protect people we don't even know. We go into hazardous situations, calculating risks. Instead of challenging me to question my career choice, the experience galvanized my resolve.
Family, friends and loved ones provide the support that keeps us going. We have faith that if we follow our training and instincts, we will come out on top. That's not always true, and yet we still do it. Policing is a noble calling.
My heartfelt thanks and appreciation to everyone who does the job, who's done the job, and to all their families and friends who give the support to continue the good fight.
Thank you for your sacrifice.
— James Dudley is a 32-year veteran of the San Francisco Police Department where he retired as deputy chief of the Patrol Bureau.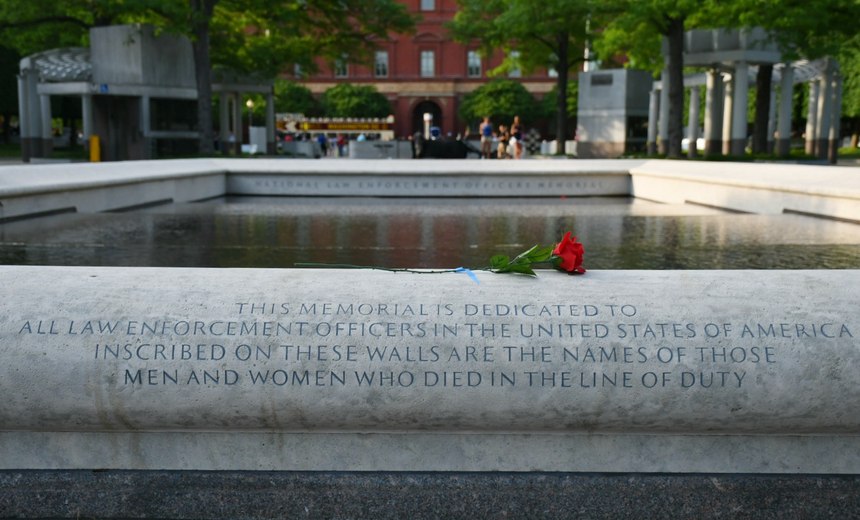 drawing aside the curtains of private pain
Police Week is finally here. The wait has been exhausting and excruciating, as observances were delayed even while traumatic firsts and anniversaries passed by.
The first holiday without a fallen officer. 
The birthday of a newly orphaned child. 
The wedding anniversary a newly widowed spouse just couldn't face celebrating, alone. 
The first court date for cases too long stalled.
The day that should have been marked with crowds of people who understand, who have felt the loss, filling the night sky with candles and blue lights while the names of the fallen are read aloud. 
When President Kennedy established Peace Officers Memorial Day nearly 60 years ago, the proclamation contained these words: "Now, Therefore, I, John. F. Kennedy, President of the United States of America, do hereby designate May 15, 1963 and May 15 of each succeeding year, as Peace Officers Memorial Day, in honor of those officers who through their courageous deeds have lost their lives or become disabled in the performance of their duty."
We're encouraged to honor the fallen, to console and mourn with the bereaved, to walk alongside the wounded whose battle rages on. 
There is a time for loss and pain to be publicly acknowledged, for a community to grieve together, as humans are designed to do. Police Week is set aside for that, drawing aside the curtains of private pain and forcing the community to see the price others paid for their safety. 
Police Week is when we celebrate lives and accomplishments, when we acknowledge heartbreak and loss, when we offer solace and promises of support to survivors, those left to struggle amidst the wreckage of hopes and plans. 
No one can move ahead and no one can heal till they've named their grief, looked it in the face and defied it. It never really goes away. A life taken cannot be restored. A body broken is never again the same. Police Week is for dragging that truth into the open, for saying it out loud and then whispering fiercely as one voice that we will not allow darkness to win. 
Raise the light.
Say their names. 
The time is here, finally.
— Kathleen Dias writes features and news analysis on topics of concern to law enforcement professionals.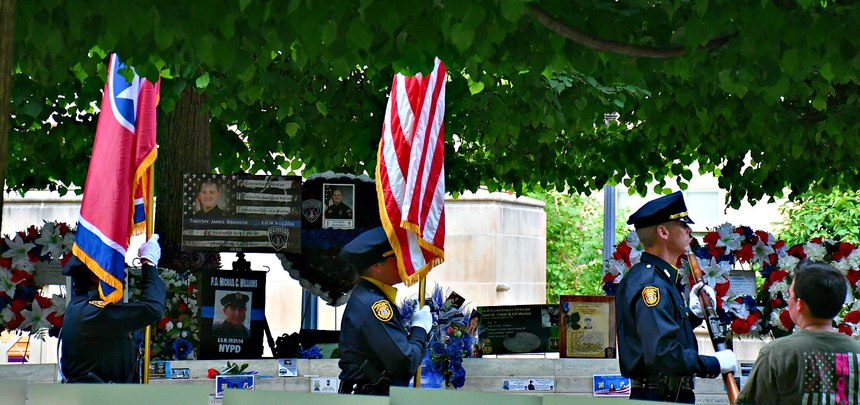 "Sad" is the piercing pain of those left behind
"You don't know 'sad' until you've been to a cop's funeral." The words of law enforcement instructor Vince O'Neill came rushing to the front of my mind a few decades later during my service on the Honor Guard. Folding the flag. Saluting the flag. Presenting the flag to a spouse or parent. Every time, I saw what "sad" really is. "Sad" is the piercing pain of those left behind.
We all experience loss in our lives, but we don't truly understand it until we lose someone so dear that they are a part of us: family, a trusted mentor/colleague, or a dear friend. The devastation of that level of loss is exponentially worse when the life is taken from us in a way we can't understand. That's what the family, friends and co-workers who have lost an officer in the line of duty experience. Their loved one took on a dangerous task of which few are capable, only to lose everything for their nobility. 
In a quarter-century of law enforcement, I've come to understand that people who lose a loved one need to understand what and why. What happened? Why did it happen? Who or what is to blame? Most of these questions cannot be answered in a healthy way. They also experience a range of emotions not always consistent with the five stages of grief, introduced by psychiatrist Dr. Elisabeth Kübler-Ross, but never intended as a rigid model acknowledging, "there is not a typical response to loss, as there is no typical loss."  
My peer mentor training stressed the most important skill for a support person is listening. Active listening, reflective listening and affect labeling. Give the affected person the ability to be angry, quiet, destructive, or just to talk. Explain to them that all of those emotions are normal and there's nothing wrong with them. It's the situation they're in that's wrong.
Do these things diligently for your friends and family, so that they may be able to lay down their badge, their folded flag and their anger…and properly grieve. 
— Warren Wilson is a lieutenant with the Enid Police Department in Oklahoma.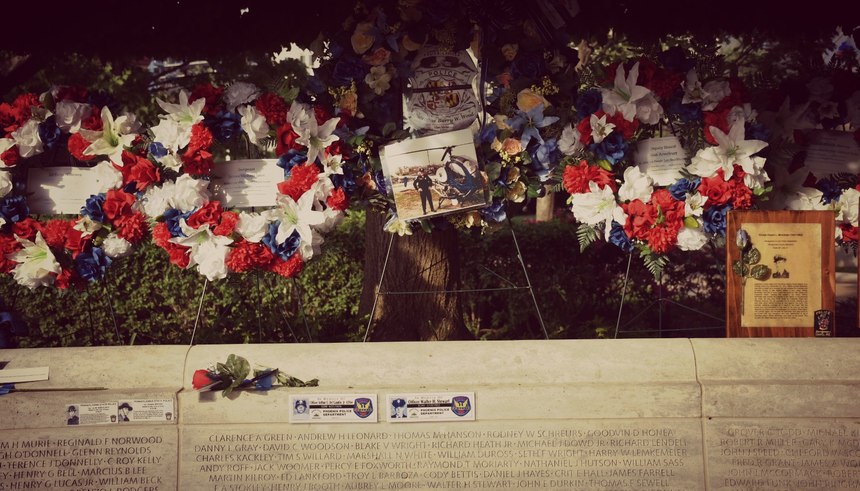 Honoring the fallen, remembering the wounded
I have been greatly privileged to work alongside organizations that supported wounded officers. After a long career in the justice arena, I have seen major improvements in the support systems for injured officers. From social media support groups to legal representation, to lobbying efforts to change laws, to prevention efforts, there has never been as much conversation about the scandalous and shameful treatment of our wounded heroes. The movement has been slow, but not insignificant.
I challenge all who wear the uniform, have ever worn the uniform, or who are among the millions of solid citizens who give voice to their support of quality law enforcement and safe communities to give honor to those who have sacrificed their health and well-being in pursuit of justice. No doubt we owe a debt we cannot pay to those families and loved ones of officers who died in the line of duty.
In the midst of those efforts to honor and support the dead and those who survive, let us remember those who have given up living pain-free, mobility, clarity of mind and were forced to leave a job they loved to often live in isolation. For those still carrying the weight of the badge, I pray that you will be encouraged and strengthened by the knowledge that so many support and appreciate you. Whether you decide to stay or pursue other paths, never forget those who fought beside you whatever patch may have been on their sleeve. 
— Chief Joel F. Shults retired as chief of police in Colorado.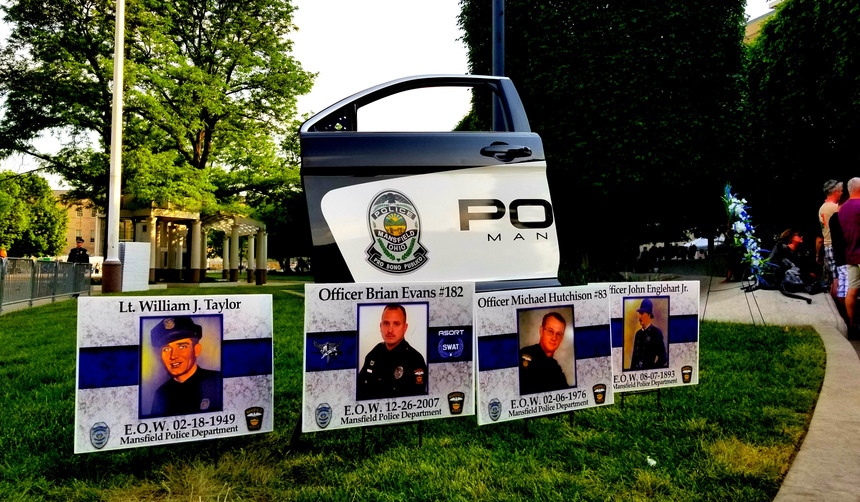 We thank you
To those who have lost so much, we thank you. The pain is real and deep, and our words fall so short. However, we try anyway. We attempt to verbally express the overwhelming emotions we feel inside ourselves. We want to get these words out as an expression of gratitude to your loved one who worked as a law enforcement officer and also to you.
We thank your fallen officer for standing watch with us. For working nights, weekends and holidays. For missing kids' sporting events and music recitals. We thank your fallen officer for leading us into dangerous places and encountering violent people to protect the vulnerable and bring peace to the chaos. We thank them for their courage in their darkest hour and trusting us, the survivors, to carry on with the mission.
We thank you for loving and supporting your officer and for continuing on in their death. Behind every LEO are family, friends and colleagues who remind us that this job has purpose. Your willingness to courageously live every day – to wake up, get the kids ready and go out into a world that has no idea of the pain you feel – is seen and appreciated. It gives active LEOs comfort knowing that if we are called to danger and bad things happen, our families will be okay.
We wish we could undo what has been done. We wish we could transfer some of your pain to ourselves to make it a little better. But since we can't, we instead choose to remember. We remember you in your courageous daily life. You are strong even when you feel weak. You are beautiful even when you feel like a mess. You are loved by hundreds of thousands of people who don't know your name.
We also remember your fallen officer, our brothers and sisters. We will forever be indebted to them for their love, service and sacrifice. Our nation is safer because of them.
— Sergeant Christopher Littrell has been a law enforcement officer in Washington State since 2005. 
NEXT: LEOs participate in Police Unity Tour to honor fallen officers