Off-duty NYPD officer shot in head in robbery attempt
"Please keep this officer in your prayers. He is currently fighting for his life," Police Commissioner Keechant Sewell said
---
By Thomas Tracy, Rocco Parascandola, Emma Seiwell
New York Daily News
NEW YORK — An off-duty NYPD officer suffered life-threatening injuries in a shooting in Brooklyn on Saturday evening, police said.
"We are at a hospital once again awaiting news — this time for an off-duty NYPD officer who was shot and is in critical condition," Police Commissioner Keechant Sewell said at a news conference at Brookdale Hospital.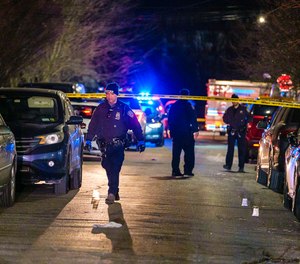 "Please keep this officer in your prayers. He is currently fighting for his life," Sewell said.
The suspected shooter remained at large late Saturday night. "We will catch the person responsible for this act," Mayor Adams said.
The shooting was reported on Ruby St., between Linden Blvd. and Dumont Ave. in an area of East New York known as The Hole.
The incident occurred around 7 p.m., said police. The 26-year-old officer, accompanied by a relative, was trying to buy a car he'd seen advertised on Facebook Marketplace, said law enforcement sources.
"Almost immediately the suspect displayed a gun and announced a robbery," said Michael Baldassano, assistant chief of the NYPD Detective Bureau.
There was an exchange of gunfire, Baldassano said. A bullet struck the officer in the head, and he was rushed to Brookdale.
The relative with the police officer was not injured, said a police source.
Investigators were scrutinizing communications between the car's seller and the officer, said sources.
The shooter was described as a bearded Black man wearing a black sweatshirt and gray sweatpants. He fled in a black vehicle with tinted windows, said police sources.
Police helicopters were called to join the search for the suspect and his vehicle. Traffic was blocked and the area around the shooting scene was closed off late Saturday night but the shooter remained at large.
Police said anyone with information about him should call the CrimeStoppers hotline at 1-800-577-TIPS (1-800-577-8477).
The wounded officer's name was not released. Sources said he joined the NYPD in 2017 and is assigned to the 66th Precinct in Brooklyn's Borough Park neighborhood. He works on patrol duty, Sewell said.
The officer is married and has children, Adams said.
Borough Park's Shomrim patrol tweeted on Saturday night that it wished for the officer's "full and speedy recovery," and that it understood the officer was fighting for his life.
The shooting came just over a year after two police officers were fatally shot responding to a domestic incident in Harlem.
The officers, Wilbert Mora and Jason Rivera, were felled Jan. 21, 2022 by a shooter armed with a Glock handgun outfitted with a drum that let him quickly fire more than two dozen bullets.
Rivera died soon after the shooting, and Mora died on Jan. 25 after fighting for his life for several days. Both were assigned to the 32nd Precinct.
©2023 New York Daily News.
Visit nydailynews.com.
Distributed by Tribune Content Agency, LLC.
McClatchy-Tribune News Service