1 Utah officer dead, 1 officer shot, suspect killed in gun battle
An officer has died after he was shot by a suspect who was later killed by police. A second officer was shot three times
Duty Death: Douglas Barney - [Holladay, Utah]
End of Service: 01/17/2016
---
Associated Press
SALT LAKE CITY — A Utah police officer was killed Sunday after he was shot by a suspect who was later killed by police.
Salt Lake County Sheriff Jim Winder said Unified police officer Douglas Barney was shot in the head shortly before 10 a.m. in the suburb of Holladay. He was taken to a hospital where he died of his injuries a few hours later.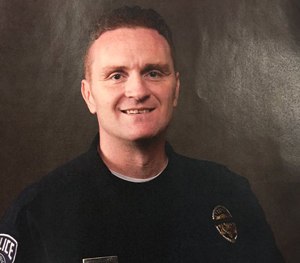 According to Winder, Barney was helping to search for 31-year-old Cory Lee Henderson and a woman. Witnesses said both were riding in a BMW that became involved in a traffic accident with another vehicle. Police said occupants in the other car were seriously injured while Henderson and the woman fled.
Shortly after Barney was shot, responding officers encountered Henderson who was on foot. Winder said gunfire erupted with Henderson and police exchanging multiple rounds. Officer Jon Richey suffered three gunshot wounds, including one in the torso. Henderson died at the scene.
Winder said Richey was conscious and alert when he saw him in the hospital. He has since undergone surgery and his condition was improving.
The woman seen with Henderson was still at large and remained a person of interest, police said. Winder described her as white and blonde. According to witnesses, she stumbled and fell as she was walking away so she might be injured.
Barney was an 18-year law enforcement veteran who served in several agencies. He had a wife and three children, the Salt Lake County Sheriff's Office said.
Henderson had a prior criminal record that included weapons possession and was sought by a gang task force, Winder said. He also had outstanding federal and state arrest warrants.
Officer Barney's brigade pic.twitter.com/vcmt0pBcGO

— Lisa Nico (@LisaNicoNews) January 17, 2016
Copyright 2016 The Associated Press