Ill. state trooper dies in car crash on duty
Trooper Todd Hanneken died Thursday in a single-vehicle crash
Duty Death: Todd Hanneken - [Urbana, Illinois]
End of Service: 03/25/2021
---
By Suzie Ziegler 
URBANA, Ill. — Illinois State Police is in mourning after one of their own died in a single-vehicle crash Thursday. 
The officer was identified as Trooper Todd Hanneken, according to WCIA. Hanneken was driving his patrol car when the vehicle went off the road, hitting a light pole and a tree. The trooper was air lifted to a hospital where he was pronounced dead, reports WCIA. The incident is still under investigation, but ISP officials say they don't believe the crash was suspicious.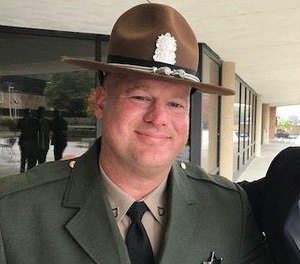 "This is a sad moment," said ISP Director Brendan Kelly at a news conference. "We are hurting. Todd's family is especially hurting." 
Hanneken is survived by his wife and two children. 
"We will honor his life, service and the service and sacrifice of his family," said Kelly.