Officials: LA deputies who leaked Kobe Bryant photos will not be disciplined
Officials believed discipline would increase odds the photos made it into the public domain, are 'satisfied' that the deputies deleted the photographs
---
Lauren Theisen
New York Daily News
LOS ANGELES — Los Angeles County Sheriff Alex Villanueva confirmed a report from last week that eight deputies leaked photos from Kobe Bryant's helicopter crash, telling NBC4 on Monday that he ordered deputies to delete them after a citizen complained that somebody was showing them off at a bar.
"We identified the deputies involved, they came to the station on their own and had admitted they had taken them and they had deleted them. And, we're content that those involved did that," Villanueva said.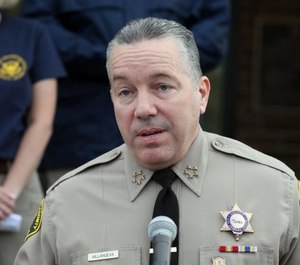 But the fact that Villanueva didn't launch a formal inquiry, which is typical after a complaint, has raised some eyebrows. None of the officers were disciplined for sharing the photos, and an investigation was only launched after knowledge of the leaks became public. Villanueva claimed that this departure from protocol was to avoid drawing attention to the graphic photos.
"Had we done the original, usual routine, which was relieve everybody of duty and everybody lawyers up and all that, that would increase the odds 10-fold that those photos would have somehow made their way into the public domain. And that's definitely what we do not want," he said.
The photos from the crash scene have not been made public but, after the initial reports of the leaks, Bryant's widow Vanessa made it clear how devastated and frustrated she was by this major breach of ethics from the deputies.
"This is an unspeakable violation of human decency, respect, and of the privacy rights of the victims and their families," her lawyer said in a statement. "We are demanding that those responsible for these alleged actions face the harshest possible discipline, and that their identities be brought to light, to ensure that the photos are not further disseminated."
McClatchy-Tribune News Service