The high cost and toll of sexual harassment and gender discrimination in law enforcement: Part 1
A review of media-reported cases involving sexual harassment of female police officers by male officers from 2000-2019
---
Sexual harassment, gender discrimination and sexual assault of female police officers by male officers remain areas of liability where police administrations have seemingly failed to adequately address the ongoing issues.
All too often a case is resolved, either after settlement or verdict, with no substantive change in the culture that fostered the sexual harassment. Similarly, there is usually no adverse impact upon the offending officer. The result is a liability vortex that destroys rather than informs and corrects. The collective attitude toward the harmful conduct is one of minimization and the conduct written off as an isolated incident. The reality though is that the conduct is often not isolated and instead symptomatic of other problems within the police department.
These issues and their discussion are not new. Numerous academic and legal articles on this topic have been published over the past 30 years. Additionally, a few well-regarded surveys gauging the perspectives of female police officers within the workplace have been published. Despite the attention, the treatment of female police officers by their male colleagues remains an ongoing employment headache for some police departments, while other departments provide an excellent environment for their female officers.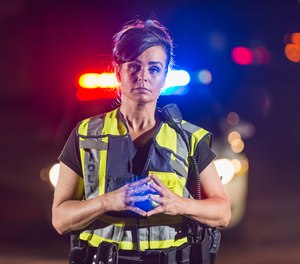 Why the disparity? It is evident from the research that departmental culture may play a role in the problem. Not coincidentally, within these departments, there are often other underlying personnel issues, such as excessive use of force, substance abuse and assorted integrity issues.
Review of sexual harassment cases from 2000-2019
Last year I embarked on research seeking to put the problem into some numerical perspective. During a 14-month period, I gathered data on media-reported cases involving sexual harassment of female police officers by male officers from 2000-2019.
Using court record searches and news story follow-ups, I recorded outcomes in the cases, as well as the age and race, when available, of the plaintiff officers. Also, the reported cases were sub-grouped according to agency size. The results indicated that 55% of the cases went to federal court and 36% to state court, with the remainder being reported internally or administratively litigated through a state human rights agency.
Monetary awards
The average monetary award after trial was $1,160,834.75 and the average settlement was $389,431.14. While the majority of seven-figure verdicts came in federal court, the highest-awarded verdict came from a state court case and there were several other notable state court jury verdicts.
Sexual assault allegations
In 18% of the total reported cases, there was an allegation of sexual assault in addition to either a sexual harassment or gender discrimination claim. When there was a reported sexual assault the average settlement jumped to $730,055.50. The cases wherein sexual assault was reported ranged from male colleagues or supervisors touching the breasts or buttocks of female officers, to forcing a female officer to touch the male officer's penis, to three cases where rape was involved.
The overriding problem in many of these cases was the fact there were no reported repercussions to the offending male officer. In one case where there was a sexual assault allegation, the male officer had a prior arrest for sexual assault of a female officer at his prior agency. In another case where there was no physical sexual assault but sexual harassment allegation, a male supervisor was alleged to have told the plaintiff officer he was going to rape her.
Plaintiff age, race
In the filings where the age and race of the plaintiff were able to be determined, the results showed that 60.5% of the plaintiffs were white, 19.75% Hispanic, 16.9% Black, 1% Inuit and 1% American Indian.
It should be noted that some Black and Hispanic female officers also had separate racial discrimination claims ancillary to their sexual harassment allegations.
Claims filed by age group were 45.7% for 30-39, 25.72% for 20-29 and 20% for 40-49.
| Percentage of filings by race |   | Percentage of filings by age |   |
| --- | --- | --- | --- |
| White | 60.5%        | Ages 20-29 | 25.72%        |
| Hispanic | 19.75% | Ages 30-39 | 45.7% |
| Black | 16.9% | Ages 40-49 | 20% |
| Inuit | 1% |   |   |
| American Indian | 1% |   |   |
Agency size, demographics
Agency size appeared to be a significant factor in the number of reported cases.
Class 1 size cities, defined by the FBI as those with populations over 250,000 inhabitants, accounted for the majority of cases (31.18%) as well as the majority of seven-figure settlements and verdicts. These higher numbers occurred in cities over one million in population, a sub-set of class 1 cities. Of those cities, Chicago, Los Angeles and New York had 68.18% of the reported settlements or verdicts over one million dollars.
The remainder of the breakdown showed Class 2 cities (100,000-249,999) to have 16.5% of the cases and class 3 cities (50,000-99,999) to have the least at 11.2% of the total.
The breakdown between the class 4 (25,000-49,999), class 5 (10,000-24,999), and class 6 (under 10,000) cities were respectively 12.94%, 13.53% and 14.70%.
| Percentage of filings by city size* |   |
| --- | --- |
| Class 1 cities (250,000+ pop.) | 31.18%              |
| Class 2 cities (100,000-249,999) | 16.5% |
| Class 3 cities (50,000-99,999) | 11.2% |
| Class 4 (25,000-49,999) | 12.94% |
| Class 5 (10,000-24,999) | 13.53% |
| Class 6 (under 10,000) | 14.70% |
| *FBI size designation |   |
The FBI reported that in 2019, 87.9% of full-time police officers in the United States were male. Female police officers comprised roughly 8% of full-time police officers in the mid-1980s, and, despite intense recruiting efforts, still account for only approximately 12% nationally. This number is well below the numbers in some other countries where women comprise 25-45% of the sworn police force. FBI reporting for 2019 also placed the number of female police officers working in cities with a population of one million-plus at 18.5%, significantly higher than the national average. Class 5 cities had the lowest with only 9.5%.
Unacceptable, unprofessional and unlawful
Regardless of the size of the agency or the amount paid in damages, the unfair, discriminatory and inappropriate treatment of female police officers is unacceptable. It is unprofessional and unlawful. Still, it is allowed to persist in many police departments across the country.
Any officer who cannot treat a co-worker with the dignity and respect they deserve as a fellow human being raises serious concerns over how they may treat the public. No police employer should overlook the potential cost of a sexual harassment lawsuit or the value of their female police officers.
---

The high cost and toll of sexual harassment and gender discrimination in law enforcement: Part 2
There are four big mistakes that seem to be endemic to any sexual harassment, sexual assault, or gender discrimination case
---