DHS: 38 Portland LEOs 'doxed' amid protests
Officers' private information was published online despite attempts to hide their names with tape
---
By Suzie Ziegler 
PORTLAND, Ore. — According to Newsweek, a Department of Homeland Security official said in a Tuesday news conference that 38 officers were doxed. DHS didn't specify what information was released, but doxing typically refers to publishing addresses and phone numbers online, said Newsweek. 
Richard Cline, the Deputy Director of Operations for the Federal Protective Service, told reporters that the doxing happened despite attempts by Portland police to hide the names of officers who have been overseeing the protests.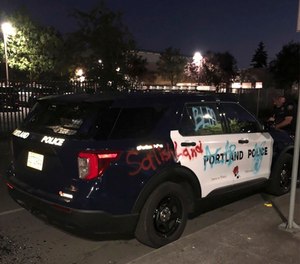 In June, former Portland police chief Jami Resch told officers they could cover their names with tape, according to The Oregonian. At that time, Portland police spokesperson Terri Wallo-Strauss told reporters that Resch's decision came after officers were doxed.
Wallo-Strauss didn't say if any suspects have been identified or what type of information was released, according to The Oregonian.