'It was an ambush': Investigation into S.C. police officer's death completed
Officer Jacob Hancher, 23, was shot and killed as he and other officers responded to a domestic incident at an apartment
---
By J. Dale Shoemaker and Jason Lee

MYRTLE BEACH, S.C. — On the night of Oct. 3, 2020, April Upton decided that she was going to break up with her boyfriend.
The boyfriend, John Aycoth, had become "overly possessive" of her and "clingy," she'd later tell police, and she decided to return to the relationship she had with her husband and work things out. Upton and Aycoth had begun dating five months earlier, and Aycoth had moved in with her at her Myrtle Beach apartment.
As Upton prepared for the breakup, she called a friend, Timothy Cleary, and asked him to come to the apartment, explaining that she was afraid of what Aycoth might do. Relatives would later describe to police a young man who struggled with anger and other mental health issues. Cleary joined Upton at the 14th Avenue apartment, just blocks from the ocean, and waited with her. Upton called Aycoth and told him to come home. He did, and she ended their relationship, asking him to move out.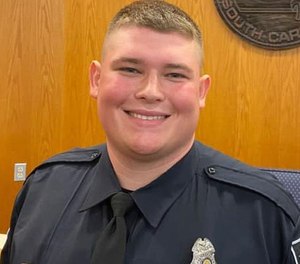 That was when Aycoth became "agitated" according to a report released by the South Carolina Law Enforcement Division (SLED) on Friday. Aycoth's agitation would set off a night that would end with himself and a Myrtle Beach police officer, Jacob Hancher, dead. Police said they believe Aycoth shot and killed Hancher, while other officers shot and killed Aycoth. Aycoth would also shoot and injure a second officer, Andrew Wangstad.
Myrtle Beach police and South Carolina law enforcement officials released detailed information for the first time about the October shooting, providing dashcam footage, 911 call logs, police reports and a 28-page report summarizing an investigation into the shooting. Authorities also released a letter by Scott Hixon, the state's chief deputy solicitor, that said no police officers were guilty of any wrongdoing in the incident.
The details released on Friday provide the most thorough account about what happened on that fall day, and why Aycoth may have become so upset that he picked up a rifle to fire at police, and possibly harm himself. While previous reporting on the incident has been able to trace the events of that night and shed some light into who Aycoth was, the videos and reports reveal an image of a troubled young man who suffered from mental health problems and turned to weapons when he felt he had nowhere else to go.
Myrtle Beach police said they think Aycoth intended to kill police officers that night, and that the shooting was not an accident. The SLED report and videos support that assertion, but also include details that indicate Aycoth suffered a mental health emergency, causing him to want to harm himself and those around him.
"It was an ambush. And in one minute and 54 seconds, the person in that house took Jacob away from all the people who cared about him, us here in the police department, his family and this community," Master Corporal Tom Vest of the Myrtle Beach Police Department told reporters. "He had the intention to do exactly what he did and there could have been a whole lot more officers who were killed."
Before police arrived
According to interviews with Upton, Cleary, neighbors and Aycoth's family, SLED investigators provided details of what happened prior to police arriving that night.
After Upton broke up with Aycoth, he began asking why, and telling her he loved her, she told investigators. Upton and Cleary were standing outside the apartment and Aycoth asked that she and him go inside to talk things out. Upton said she didn't want to, and Cleary tried to get Aycoth to calm down. Instead, he ran towards the house and said he wanted to harm himself.
At 9:51 p.m. Cleary called police and told them there was a domestic disturbance. When Aycoth and Cleary were both still outside, Aycoth at one point said, "he had something" for Cleary and that if he called the police, "I'll start firing." Because Aycoth had moved in with Upton, and now had to move out, he also appeared distraught about finding a place to stay, shouting at Cleary, "Where am I supposed to go?" Court records showed that Aycoth's mother had previously been evicted from an apartment, and the SLED report made reference to Aycoth having lived with other relatives.
After Aycoth made threats and ran into the house, Cleary and Upton ran across the street to hide, and eventually stayed in a friend's apartment.
Cleary also told investigators that Aycoth made comments to him about not going to jail, and shooting "cops" if they came to the house. Upton told investigators that she knew Aycoth kept guns in the house.
A history of mental health issues, a love of guns
In an interview with Aycoth's sister, SLED investigators reported that he had a history of mental health issues, including anger. Aycoth's sister, Shayla Aycoth, told investigators that "her brother was 'hot-headed,' did not always think right, and had anger issues," according to the report.
Shayla Aycoth also told investigators about a time when her brother lived in Charlotte with their cousin. His ex-girlfriend at the time, with whom he had a child, moved out of state and took their daughter. Aycoth, his sister said, "freaked" and was admitted to a mental hospital for a week. Aycoth's mother confirmed to investigators that her son had spent time in a Charlotte mental hospital, but that her son had never been in trouble with law enforcement before and that she wasn't aware of any problems he was having.
Shayla Aycoth also told investigators that her brother had an affinity for guns, and purchased one when he was 18. Photos on social media show Aycoth posing with one of his weapons. Eventually Aycoth would purchase an AK-47, an AR-15 and a Mosin Nagant, a bolt action rifle. A childhood friend previously told The Sun News that Aycoth developed a love of guns as a child, first BB guns, and later automatic rifles.
It does not appear that Aycoth underwent any other treatment for mental health aside from the hospital stay in Charlotte. Aycoth's cousin, Heather Zboch, told investigators that Aycoth "was not the type of person to go to the doctor," and said the only time she knew that he sought medical treatment was when he went to a hospital for stitches five years ago.
The night of the shooting
Shortly after Cleary called 911, local dispatchers sent three officers to the corner of 14th Avenue and Yaupon Drive, Vest said.
Hancher was the first to arrive on scene, and pulled up in a police SUV. Wagstad pulled up in a police-marked golf cart shortly after.
Dashcam video shows Hancher get out of his car, speak to someone off camera for a moment, and then cross in front of his car, headed towards the house that Aycoth and Upton had lived in.
According to the body-worn camera that Hancher had on, Cleary tells him that Aycoth is "in the house." Hancher asks where, and Cleary and Upton point him towards the front door. As he approached the front door, Hancher did not have his gun drawn, the video shows. He radioed that he was across the street from the Casa Del Oro hotel. His body cam caught an image of "a shadowy figure" standing inside: Aycoth.
That's when the shooting began. In the dashcam footage from Hancher's car, Aycoth can be heard shooting at Hancher multiple times as he moved from between two cars parked in the driveway towards the front window of the home. According to Vest, Hancher was knocked over by the shots and fell between the two cars. Once on the ground, he pulled out his gun and fired eight shots in Aycoth's direction. Then the shooting stopped.
As Aycoth was shooting at Hancher, Wangstad dove behind Hancher's police cruiser to take cover. He was then shot in the knee.
Inside the home, Aycoth texted his sister. He told her that he loved her, and he was about to die. She then called him, and he told her that he had shot a police officer. She told him to drop the gun, and then drove to where she knew his girlfriend lived to try to find out what happened.
Around that same time, Hancher's father had heard about the shooting. He texted his son, "you good?" He never got a response.
Other officers had arrived on scene by then, and a "shots fired" call had gone out over the police radio. Dashcam footage shows officer Brandon O'Rourke pull up on scene and shout "where is he! where is he!" He and another officer get out of the SUV and station themselves, guns drawn, on the other side of their vehicle. They shoot at Aycoth, and then the shooting stops again.
That's when police say Aycoth stepped out of the house and fired one last shot at Hancher. Police said they don't know which bullet killed Hancher, but that he suffered multiple life-ending shots.
Kevin Reilley, another officer, then pulled up to the scene around the corner from where the other officers had parked. More gunfire was exchanged, and by that time several officers were firing at Aycoth. Police believe one of their bullets eventually struck and killed Aycoth, though the SLED investigation could not determine which officer killed him.
As the shooting was happening, O'Rourke aided Wangstad and applied a tourniquet to his leg to stop the bleeding. Vest told reporters Friday that Wangstad had since healed and returned to work.
In all, dozens of shots from several different weapons were fired that night, leaving both Hancher and Aycoth dead.
Mourning a police officer, and friend
In the days and weeks after the shooting, Myrtle Beach police, politicians and others in the community mourned Hancher's death. A memorial service was held at the convention center, and his fellow officers paid a number of tributes to their colleague and friend.
On Friday, Vest said that he, too, misses Hancher greatly. He said he used to be Hancher's supervisor and would cover for him to the higher-ups when Hancher was late to work, which was often.
"The sergeant would come in and say, 'Has anyone seen Jacob?' And I would say, 'Oh yeah, I just talked to him, his car broke down,' and I would call him and call him til I would wake him up in bed," Vest said with a laugh. "I will tell you that i miss him a lot."
"It's still pretty raw for me and I miss him," Vest added. "I miss working with him and I miss talking to him."
Therapy appointments are available for officers who want to speak with a mental health professional, Vest said, and the department also offers a peer support program that allows officers to talk through difficult events and emotions with colleagues who understand what they go through. He also said that the outpouring of support from the community is meaningful, mores o than people probably realize.
"There's not a whole lot (people can do), but the gesture means more to us than I think anyone knows," Vest said.
"For myself, there's grief involved in it," Vest added, and noted that the rest of the department being able to see the videos of what happened that night is letting them heal.
"I think it provided a lot of closure."
(c)2021 The Sun News (Myrtle Beach, S.C.)
McClatchy-Tribune News Service