Killing of deputy makes 2023 deadliest year in decades for Wis. LEOs
"The fact we're barely five months into the year is beyond alarming," Jim Palmer, executive director of the Wisconsin Professional Police Association said
---
By Lucas Robinson
The Wisconsin State Journal
GLENWOOD, Wis. — A motorist shot and killed a St. Croix County sheriff's deputy before fleeing into the woods and shooting himself on Saturday, the Wisconsin Department of Justice said.
The shooting makes 2023 the deadliest year for law enforcement in Wisconsin since 2000.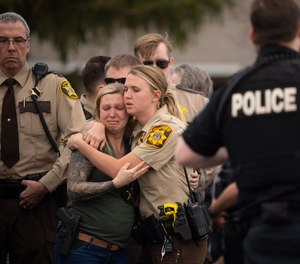 Deputy Kaitie Leising, 29, had responded to a report of a drunken driver who had crashed into a ditch in the town of Glenwood, about 50 miles northwest of Eau Claire, about 6:15 p.m. Saturday, according to the DOJ's Division of Criminal Investigation.
The driver, Jeremiah D. Johnson, 34, refused Leising's demands to take a field sobriety test for nearly 10 minutes before taking out a handgun and shooting the deputy, the DOJ said.
A vehicle of people who had stopped at the scene to help Johnson before Leising arrived gave her aid. She later died at a hospital.
After an hourlong search for Johnson in the woods, an officer saw Johnson shoot himself, the DOJ said. He died at the scene.
Leising had worked in St. Croix since last year and prior to that served in South Dakota with the Pennington County Sheriff's Office for two years, St. Croix County Sheriff Scott Knudson said.
"We, as a law enforcement family, will do everything possible to continue to provide support and comfort to her family," Knudson said.
"We will miss her infectious smile and personality," Knudson said.
The killing comes exactly one month after the fatal shooting of two police officers in neighboring Barron County. On April 8, Officer Emily Breidenbach, 32, of the Chetek Police Department, and Officer Hunter Scheel, 23, of the Cameron Police Department, pulled over a vehicle driven by Glenn Douglas Perry, 50, of New Auburn, after they received a report of "concerning behavior," according to the DCI.
The killings in Barron and St. Croix counties bring the number of law enforcement officers slain on duty this year to four. In February, a man shot and killed Milwaukee police Officer Peter Jerving after a robbery.
"It's devastating to say the least," said Jim Palmer, executive director of the Wisconsin Professional Police Association.
"The fact we're barely five months into the year is beyond alarming," Palmer said. "A tragedy like this deeply impacts every officer that puts on a badge and the loved ones that watch them depart each day."
The recent staffing shortages faced by law enforcement in recent years mean an officer may be more likely to respond to a scene alone, Palmer noted.
"That's especially true in a rural setting where the closest backup could be 20 to 30 minutes away," Palmer said.
(c)2023 The Wisconsin State Journal (Madison, Wis.)
Visit The Wisconsin State Journal (Madison, Wis.) at www.wisconsinstatejournal.com
Distributed by Tribune Content Agency, LLC.
McClatchy-Tribune News Service