Man bites off, swallows NY officer's fingertip
Ainsley Johnson gulped down the fingertip during a fight with a cop who was escorting him into a jail cell
---
By M.L. Nestel and Thomas Tracy
New York Daily News
NEW YORK — He bit off all he could chew.
An unhinged man who chomped off a piece of a cop's middle finger at a Brooklyn stationhouse swallowed the digit before cops could retrieve it, authorities said.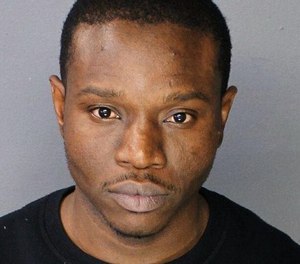 Ainsley Johnson, 34, gulped down the fingertip during a fight with a cop who was escorting him into a jail cell at the 69th Precinct in Canarsie about 6 p.m. Friday, according to police.
About an hour earlier, cops arrested Johnson on E. 99th St. after he wigged out on a 46-year-old resident, breaking the windows of the man's 2003 BMW and crushing his victim's mailbox with a cement planter.
Cops took Ainsley in on criminal mischief charges.
While at the precinct, Johnson resisted as a 24-year-old cop tried to re-handcuff him — and the two tussled, falling onto the floor.
That's when things turned feral. 
Ainsley bit off the cop's finger "from nail to tip," police sources said.
Medics rushed the two-and-a-half-year veteran to Kings County Hospital.
Ainsley was also injured in the fight and was taken to Brookdale University Hospital and Medical Center for treatment. The extent of his injuries weren't disclosed.
Cops charged Ainsley with resisting arrest and assaulting a police officer for what is believed to be his 12th arrest since 2008, officials said. His arraignment is pending.
Johnson, a registered sex offender, was arrested for rape in Queens in 2008. He was convicted of attempted sexual battery during a separate sex offense in Florida in 2012.
Last year, cops in the same precinct as the finger-biting incident busted Johnson on four occasions for charges that included unlicensed operator, resisting arrest and criminal trespass.  
©2018 New York Daily News
McClatchy-Tribune News Service