Rapid response: What are the risks to recruits when training in public?
After a wrong-way driver struck 25 LASD recruits on a training run, LE leaders and instructors should study this incident and consider changes to recruit training activities
---
Early Wednesday morning, 25 Los Angeles County sheriff's recruits were struck by an SUV while on a training run a little more than a mile away from the Sheriff's Training Academy and Regional Services (STARS) Center, a Los Angeles County Sheriff's Department's training location.
Five recruits were critically injured, four had moderate injuries and 14 were reported to have minor injuries. LASD Sheriff Alex Villanueva said the range of the most serious injuries included head trauma, broken bones and "loss of limb." The trainees included recruits for the Sheriff's Department and several local police agencies.
The 22-year-old male driver has been detained and hospitalized. At this time the cause of the wrong-way driver crash into a group of about 75 recruits is unknown. A full investigation is underway.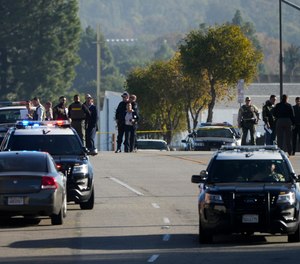 As an early morning runner and observer of the violence directed at law enforcement, several potential causes immediately come to mind.
Distraction. Drivers are constantly distracted by devices, food and passengers. The driver is reported to have been traveling southbound before crossing the centerline and hitting the recruits on the northbound sidewalk, just in front of an elementary school.
Drowsy. The incident occurred at sunrise. Drowsy drivers put themselves and others at risk.
Intoxication. All public safety personnel know that drug- or alcohol-intoxicated drivers are on the roads at all hours of the day. The driver was reported to have been given a field sobriety test before going to the hospital.
Medical incident. There are numerous medical conditions that can cause a driver to lose control of their vehicle. One news report said the driver was held in a patrol vehicle for 10 to 15 minutes before being transported to the hospital.
Intentional attack. Police officers are tragically attacked while on patrol and training. Investigators are surely considering intentionality as they interview the driver and the recruits.
Training in public view
All of the recruits and their instructors are in our thoughts, and we wish them a rapid recovery. Meanwhile, all law enforcement leaders and instructors should study this incident and consider changes to their recruit training regimen and activities.
Recruits and officers training in public view are conspicuous. If your recruits are running on surface streets, vary routines and routes so as not to become predictable to those who may wish to do them harm. Group running is great for building esprit de corps, but it might be better to distribute the potential risk of harm by running in four- to six-person patrols.
Running laps on a track can quickly become dull, but the track might be less visible from adjacent streets and have some barriers to ingress making it better suited for training runs. Also consider routes on trails or smaller neighborhoods that have less vehicle traffic.  
I don't know if the recruits were accompanied by a protective detail in a vehicle. Obviously, a protective detail could draw additional attention to a group of runners, but it also might serve as a deterrent to bad actors and be able to carry first aid resources if an individual recruit has a medical emergency during the run.
Answer these questions about training
It is very early and there is much we will learn in the hours and days ahead. Potential causes for this tragic incident range from accident to attack. With that in mind it is worth asking and answering these questions:
Are our recruits in the public eye and vulnerable to an attack during training?
What modifications to training activities or locations should we make today?
How might a copycat attacker learn from this incident and modify to make a similar attack?