Taco Bell worker fired after writing explicit message on cop's takeout bag
The local police union said Taco Bell "stepped up to the plate" and apologized to all Houston officers
---
By Police1 Staff
HOUSTON — A Taco Bell employee has been fired after writing an explicit message on an officer's takeout bag. 
According to KHOU, the officer discovered the message "f**k pigs" on the bottom of his bag Tuesday, the same day two Houston officers were shot while responding to a burglary call.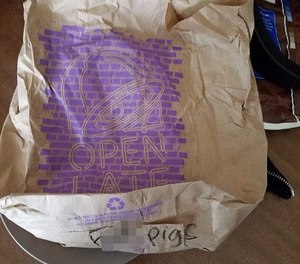 "When he got home and he was done eating his tacos, he flipped the bag over and found a very offensive message," union representative Joe Gamaldi said.
After the officer told his union about the incident, they called Taco Bell. An investigation was launched and they fired the employee immediately. 
"Taco Bell really stepped up to the plate," Gamaldi said. "They fired the employee, and not only apologized to the officer, but to every single Houston police officer."

In a statement, Taco Bell said they "are deeply appreciative of the men and women who serve and protect our communities and our country."
"B&G Food has contacted the officer and the Houston Police Officers Union to apologize directly and assure them of their ongoing support of law enforcement," the fast food restaurant said.