Feds charge Calif. man, 2 others in deadly 'swatting' call
Tyler Barriss told investigators the Wichita swatting was the result of a dispute over a $1.50 bet in an online game
---
By Roxana Hegeman
Associated Press
WICHITA, Kan. — Federal prosecutors indicted Wednesday two online gamers and the California man accused of making the hoax calls that led a police officer to fatally shoot an unarmed man in Kansas.
The indictment charged Tyler Barriss, 25, of Los Angeles with conspiracy to make false reports, making false reports and hoaxes, cyberstalking, making interstate threats, making interstate threats to harm by fire and wire fraud.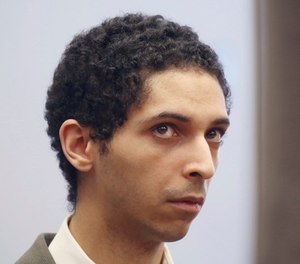 Also charged were the two gamers playing Call of Duty: WWII online that led to the "swatting," a practice in which a person makes a false report to get emergency responders to descend on an address.
Casey Viner, 18, of North College Hill, Ohio, was charged with conspiracy to make false reports after becoming upset during the game and asking Barriss to swat Shane Gaskill, 19, of Wichita.
Viner and Gaskill also face charges of conspiracy to obstruct justice stemming from what prosecutors say were numerous conversations about getting rid of their chats and any incriminating evidence after they learned of the shooting in Wichita. They both also face various counts of obstruction of justice and wire fraud.
Court documents do not list defense attorneys, and prosecutors did not know whether they had attorneys. Barriss' attorney in a related Kansas case did not immediately return a telephone message. In the state case, Barriss is facing charges of involuntary manslaughter, giving a false alarm and interference with a law enforcement officer.
Barriss is accused of calling Wichita police from Los Angeles on Dec. 28 to report a shooting and kidnapping at a Wichita home. A responding officer fatally shot Andrew Finch, 28, after he opened the door. Finch was not the intended target of the swat, and lived at an old address for Gaskill.
U.S. Attorney Stephen McAllister told reporters that Barriss followed Gaskill on Twitter after being asked to swat him, and that when Gaskill realized he might be swatted he dared Barriss to do it and gave him his former address.
"Falsely causing police to respond in force to the address of an innocent person of family is not a joke or a prank," McAllister said. "It is a federal crime and it puts people's lives at risk." He also called such behavior "irresponsible and immoral."
The most serious charge of making a hoax call carries a potential life sentence because it resulted in a death, and some of the other charges carry sentences of up to 20 years, McAllister said.
A phone listing for Viner in Ohio was not taking calls, and a person with that name did not immediately respond to a Facebook message. A message to a Twitter account for Gaskill also was not immediately answered.
Viner and Gaskill had not previously been charged in connection with the "swatting" incident or Finch's death. First appearances in federal court for all three men are set for June 13.
Barriss is charged with a total of 12 federal counts, including seven counts of wire fraud related to the hoax calls.
The shooting drew national attention to the practice of swatting, a term coined by the FBI in 2008 to describe a retaliatory tactic intended to draw a large police response to the targeted individual, said Los Angeles police detective Edward Dorroh.
Barriss told investigators the Wichita swatting was the result of a dispute over a $1.50 bet in the online game, Dorroh testified Tuesday at the preliminary hearing for Barriss in the state case.
Dorroh, who interviewed Barriss following his arrest in Los Angeles the day after the shooting, said he recognized Barriss' distinctive voice on the 911 call to Wichita because he had investigated a 2015 swatting case involving him. Dorroh said Los Angeles police probably get 25 swatting calls a year.
Brian Krebs, who reports on cybersecurity on his own website and was swatted himself in 2013, said swatting became a trend in recent years when gamers could be paid to participate in games livestreamed to thousands of viewers.
"It became kind of a thing to disrupt one of these webcasts when they were playing," Krebs said, comparing it to terrorists wanting to see their attacks on television.
Krebs said local emergency responders need to improve their training because "swatting's not going away."
He said the federal government has been willing to prosecute swatting cases, including people who are involved but do not make the hoax calls.
In 2016, a 22-year-old New York man was sentenced to two years in federal prison over what authorities said was a conspiracy to swat or commit other crimes against dozens of victims, including celebrities. In 2015, a Connecticut man was sentenced to a year in federal prison for making hoax threats with gamer associates.