Ferguson police shooting suspect returns to court over UOF claim
A man accused of shooting two cops in Ferguson returned to court Tuesday over a claim that police used excessive force during his arrest
---
By Alan Scher Zagier 
Associated Press
CLAYTON, Mo. — A man accused of shooting two police officers in Ferguson returned to court Tuesday over a claim that St. Louis County police used excessive force during his arrest.
A circuit court judge agreed to defense lawyer Jerryl Christmas' request to photograph Jeffrey L. Williams in the courtroom. Online court records indicate prosecutors took their own photos at the brief hearing, which came one day after Williams, 20, made his first appearance in court.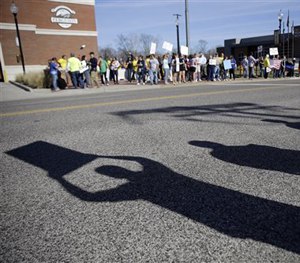 Christmas told The Associated Press on Monday that police roughed up his client and described bruises on Williams' back, shoulders and face and a knot on his head. Police spokesman Brian Schellman called the assertion "completely false" while noting that the suspect was seen by a nurse when he was booked into the county jail, standard procedure for all incoming inmates. He added that Williams did not resist arrest.
Christmas also suggested that police coerced a statement by Williams in which he reportedly admitted to the shooting but said he wasn't targeting police. Schellman also rejected that assertion, noting the statement was videotaped.
Williams, shackled at the waist and feet, was led into a jury room Tuesday, where he was photographed, the St. Louis Post Dispatch reported. He was then returned to county lock-up.
Christmas said some of the injuries are visible in a police mug shot distributed Sunday, the Post-Dispatch reported. He said red marks can be seen on his client's throat and cheek.
Williams is accused of shooting the two officers early Thursday outside Ferguson's police station, which has been the scene of protests since last summer's fatal shooting of 18-year-old Michael Brown.
Williams was arrested Sunday on charges of felony assault, armed criminal action and a weapons offense.
In his interview with the AP on Monday, Christmas countered an earlier description by St. Louis County Police Chief Jon Belmar of the March 12 shooting.
"This wasn't any type of ambush shooting," Christmas said. "Those officers were shot accidentally."
Christmas later said in other media interviews that Williams didn't fire the shots at the officers. He did not respond to several messages Tuesday seeking to clarify the discrepancy.
Police have said Williams told investigators he was aiming instead at someone with whom he had a dispute. But that assertion was met with skepticism by St. Louis County Prosecutor Robert McCulloch.
"We're not sure we completely buy that part of it," the prosecutor said Sunday.
Christmas told the AP he wasn't aware of any details regarding a possible dispute that could have preceded the shooting.
The shooting happened as a demonstration began to break up. The protest followed the resignation of city Police Chief Tom Jackson in the wake of a Justice Department report that found widespread racial bias in the city's police practices.
Williams is jailed on $300,000 bond.
The Ferguson Police Department has been a national focal point since Brown, who was black and unarmed, was killed by police officer Darren Wilson, who is white. A grand jury declined to indict Wilson in November, and Wilson was cleared of civil rights charges by a Justice Department report released March 4. Wilson resigned in November.
A separate Justice Department report found widespread racial bias in the city's policing and in a municipal court system driven by profit extracted from mostly black and low-income residents.
Copyright 2015 The Associated Press