Man accused of killing 2 Palm Springs officers faces death penalty
John Felix, accused of killing two Palm Springs officers during an ambush-style attack, will face the death penalty
---
By Richard Winton
Los Angeles Times
PALM SPRINGS, Calif. — The man accused of killing two Palm Springs police officers during an ambush-style attack will face the death penalty, Riverside County Dist. Atty. Mike Hestrin announced Wednesday.
John Felix, 26, faces two counts of murder with the special circumstances of multiple murders, murder of a police officer in the line of duty and lying in wait.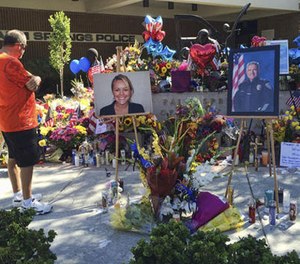 Hestrin said he met with the families of the two slain police officers before publicly announcing his decision to seek capital punishment against Felix.
"This was a heinous crime involving the murders of two police officers who were gunned down simply because they were police officers," Hestrin said in a statement.
"The victims in this case were responding to a call for service and died in the line of duty protecting our community."
Felix also faces three counts of attempting to murder three other Palm Springs police officers, one of whom was wounded by gunfire but survived. Felix has pleaded not guilty to all charges.
Authorities say that during the Oct. 8 slaying, Felix used an assault rifle with an extended magazine to fire on Officers Lesley Zerebny, 27, and Jose "Gil" Vega, 63, through a metal security gate.
The officers were responding just after noon that day to a family disturbance at Felix's home in the 2700 block of Cypress Road. A family member told officers that Felix was armed, sheriff's officials said in a statement.
"Officers spoke to Felix through a metal screen door and instructed him to step outside so they could conduct their investigation," the Sheriff's Department said.
"Without provocation or warning, Felix fired upon the officers with an assault rifle."
The officers were wearing ballistic vests at the time of the attack, according to the statement. Felix, who was wearing body armor during the shooting, was arrested after a lengthy standoff.
Copyright 2016 - Los Angeles Times
McClatchy-Tribune News Service