Md. officers cleared in fatal OIS, investigators found 'no lesser use of force options'
Suspect had already shot a woman in the apartment and wounded one officer
---
By Cassidy Jensen
Baltimore Sun
TOWSON, Md. — The Baltimore County Police officers who fatally shot a man brandishing a gun at his Towson apartment in June will not be criminally charged, according to the Baltimore County State's Attorney's Office.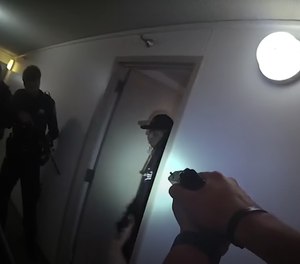 Three county police officers fired at Joseph Robert Henry Thompson, 66, after he answered his apartment door holding a gun and shot at police, hitting one officer's hand, according to a report the Independent Investigations Division of the Attorney General's Office released Tuesday.
"Based upon all the evidence and information made available to me, I see no basis for any criminal charges against any of the officers involved in this incident," Deputy State's Attorney John Cox wrote in a Jan. 13 letter to interim Baltimore County Police Chief Dennis Delp. Cox said in the letter he had read the Independent Investigations Division's report and had previously viewed body camera footage of the incident.
Baltimore County Police officers responded to a Virginia Avenue apartment complex in Towson for "unknown trouble" at about 8:40 p.m. on June 4 and heard gunshots coming from inside the building, according to the state report. The 911 caller said she heard a woman screaming for help and a loud bang from the 11th floor.
Six officers took the stairs up to the 11th floor, investigators said. Thompson answered the door armed with a handgun, and after Baltimore County Officer David Kralick said, "let me see your hands," Thompson fired at Kralick, hitting his right hand. Kralick ran down the hallway toward other officers.
Baltimore County officers Scott Johnson, Cody Klapka and Robert Fitzgerald shot back at Thompson, hitting him 11 times. Klapka fired four rounds, Johnson fired six and Fitzgerald fired one, investigators said.
An autopsy found Thompson died from multiple gunshot wounds in the abdomen, lower back, buttocks and all four extremities.
The Independent Investigations Division of the Attorney General's Office investigate deaths involving police and passes on its findings to local prosecutors. Those local prosecutors determine whether to bring criminal charges against police, but Maryland lawmakers are now considering a bill that would give the attorney general that authority.
In its report, the division evaluated potential criminal charges of intentional second-degree murder, voluntary manslaughter and other charges and found that the officers "had reason to believe that he could seriously harm or kill them" both because they could hear gunshots before they confronted Thompson and because he had injured Kralick.
Investigators also wrote that the three officers who shot at Thompson "had no opportunity to attempt lesser force options" because he immediately fired at them when he opened the door.
To prove a charge of voluntary manslaughter, prosecutors would need to show that the three officers used an unreasonable level of force or that their belief that they or other officers were in imminent danger was unreasonable, according to the division.
"Because Mr. Thompson immediately fired his gun at officers when the door opened, it is apparent that officers had reason to fear serious physical injury or death," the report said.
Officers did not render aid to Thompson after the shooting, the report said, but moved him aside to enter the apartment. Police told dispatchers that Thompson appeared to be dead about two minutes after the shooting, then placed him in handcuffs and checked for his pulse.
Building surveillance footage showed medics attempting to revive Thompson at 9:20 p.m., about 30 minutes after the shooting, but he died on the scene, according to the report.
A woman found inside the apartment was hospitalized in critical condition after being shot and later released. She told investigators Thompson shot her in the leg and head after she came to his apartment to end her romantic relationship with him and retrieve her belongings.
Thompson's death marks the fourth fatal police shooting in Baltimore County to be investigated by the Independent Investigations Division, leading to no criminal charges. Two officers who fatally shot a man with a knife and a carving fork in Essex in 2022 did not face charges.
Last year, the Baltimore County State's Attorney's Office also cleared two officers involved in two civilian deaths in October 2021, the first incident to be investigated by the state unit.
The division is investigating a Jan. 31 shooting in White Marsh that left a man critically injured. The man's stepmother said Monday that he remained on life support but declined to comment further.
©2023 Baltimore Sun.
Visit baltimoresun.com.
Distributed by Tribune Content Agency, LLC.
EARLIER: Fatal OIS videos show knife-wielding man, point-blank gunfire
McClatchy-Tribune News Service