RISE Award nominee: Under pressure, decorated cop is calm, collected hero
Agent Richard Clements has demonstrated his ability to stay cool under immense pressure in several scenarios
---

Editor's Note: The TASER RISE Awards have officially commenced. In the second-ever edition of the RISE Award Program, TASER and Police1 again honored officers, agencies, and community partners who have risen above the rest. Agent Richard Clements is a Protect Life nominee for his incredible actions on- and off-duty.Stay tuned to find out who our winners are!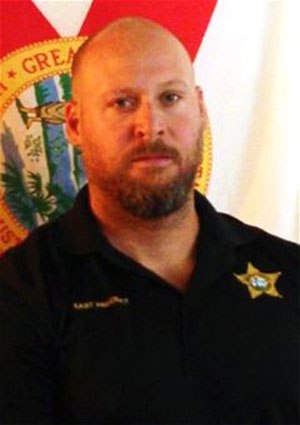 Agent Richard Clements is what you would call a "well-rounded cop." A decorated member of the United States Air Force, Clements served as a military police officer for nearly six years before joining the police force in his hometown of Brevard County in 2006.
After applying for a position with Criminal Investigative Services, he became an agent investigating narcotics and vice crimes. A year later, he applied to join the Brevard County SWAT team, and quickly became a member of the agency's elite tactical team.
Another year later, Clements was selected to become part of a multi-agency task force that targets gangs and violent offenders, known as the "GameOver" Task Force. He had quickly made his way through the ranks, proving to his command staff and colleagues that he had what it took.
Soon, life on the task force would throw two life-or-death incidents his way that would truly test how he'd react under pressure.
Impeccable Timing
In July 2014, Clements was traveling to work in his unmarked SUV when he noticed traffic starting to slow. As he maneuvered around the traffic, he spotted a car stopped, facing oncoming vehicles, and highly damaged.
He positioned his SUV to block the damaged vehicle from oncoming traffic before walking over to assess the scene.
In the battered car was an elderly male slumped over on the passenger's side of the vehicle, and a massive amount of blood. Clements crawled into the car, unsure if the man was still breathing.
"When I started talking to him, he responded. He said his arm was badly injured, but his upper torso was on his arm so I couldn't see," said Clements. "I lifted his upper torso and saw his arm was partially amputated at the elbow. I knew I had to do something quick."
Just a week earlier, Clements took two eight-hour military first-aid training classes with 920th Rescue Wing as part of his SWAT training, where the team received trauma response training -- including the application of tourniquets. 
With the training fresh in his memory, he raced back to his vehicle to retrieve gauze and a tourniquet and applied it to the man's upper arm. As the bleeding virtually stopped and with the man propped upright in the driver's seat, medics arrived on the scene and decided the tourniquet was perfectly applied.
Later, a trauma physician who treated the man said confidently that if it weren't for the quick and skillful application of the tourniquet, the man would likely have bled to death.
Ending a Threat
Late on Christmas Day, 2014, police responded to reports of a man who fired nine shots into his family's mobile home. Miraculously, none of the six members of the family were injured, but the man made it known that he'd be back – and that any officers who tried to stop him would be in danger.
Clements received a call in the early hours of December 26 from his sergeant to look into the suspect in order to locate and arrest him.
"I received information from a confidential source around 10 a.m. that he was located in a specific area," said Clements. "I got ahold of my other teammates and advised them to respond to the area as I made my way down there. I was the first on-scene so I began assessing the location for different surveillance points when I saw the suspect standing in a courtyard in basketball shorts, no shirt."
Clements knew the man was potentially on the verge of killing and was an immediate threat. He stood a decent distance away from the apartment Clements was told he was staying in, so now the agent had to make a decision, and fast: Could he cut him off and subdue the man before he reached the apartment?
Suddenly the man spotted Clements' squad and took off running, forcing the officer to pursue on foot.
"I was within two-to-three feet of him when he ran into the apartment. We ran through the living room and as he ran into a bedroom, he'd armed himself with a handgun from a piece of furniture," he said.
The suspect first pointed the gun at his own head, as Clements entered the room urging him to drop the weapon. He lowered the gun from his head, racked the slide, and began to raise it again toward the officer when Clements fired off three rounds, killing the suspect.
For his quick, heroic response to the accident in July, Agent Clements was awarded a Life Saving Bar and a Resolution from the Melbourne City Council and Melbourne Fire Department.
He was then awarded the Medal of Valor, Deputy of the Year, and Brevard County Officer of the Year for his lifesaving actions.
"Recognition has never really been the goal," Clements said. "The pleasure of being able to do what we do – that's recognition enough – to participate in these different units.
"The awards were overwhelming, but really cool," he said. "I got to speak with a lot of amazing officers. There are incredible things being done everywhere."
Agent Clements has proven time and again that he's the kind of person you want on your side (and certainly the person you want backing you up on a call). He's proven himself under immense pressure, and is constantly striving to better himself for the good of his department and his community. It's for this reason that we're proud to call Agent Rick Clements a RISE Award candidate for the Protect Life category.