Watch: BWC video shows shootout between N.M. officers, suspect inside supermarket
Chief Harold Medina said if he had one word to describe the scene, it would be "chaos," and that you could tell the incident "escalated extremely quickly"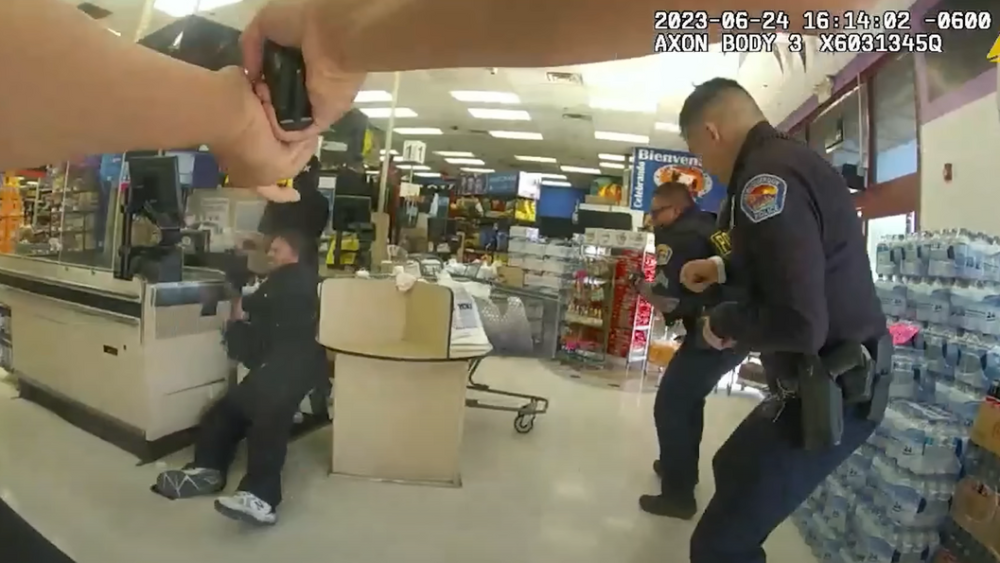 Albuquerque Journal, N.M.
ALBUQUERQUE, N.M. — Albuquerque Police Department officials released lapel video and a rundown of a gunfight that erupted between a man and officers in a crowded supermarket last month on West Central.
On June 24, APD Sgt. Gianfranco Di Paolo and officers Anthony Trujillo, Brandon Perez and Damian Dudnow fatally shot Mark Peter, 41 inside an El Mezquite market.
The four officers joined APD at different times between 2015 and 2020 and none had been involved in a prior shooting. Officials said none of the officers have returned to duty.
The department held a briefing Wednesday on two fatal police shootings, which happened in less than a week of each other in June.
"If I could use one word to describe both scenes: chaos," APD Chief Harold Medina said during the briefing. "I mean, you could clearly tell that these incidents escalated extremely quickly."
Medina said the department would be assessing the officers' tactics in the shooting — particularly that they appeared to fire in the general direction of other officers as well as bystanders. He said the incident also showed "acts of heroism" in the fast movements of one officer to intentionally fire away from bystanders.
Medina said one of the rules police have ingrained when it comes to deadly force is "be sure of your target and what is beyond it."
"Those are questions that we're going to have to answer during the administrative investigation, like what was in line? What was the officer's perceptions? What was going through their mind at that time? So we do have to answer some of those questions," he said. "And when the investigation comes out, we should have some answers as to what the officers are observing, why shots were fired, what they saw and why it was necessary at the moment with these individuals in line."
Cmdr. Kyle Hartsock, with APD's Investigative Enhancement Division, detailed the June 24 police shooting and released lapel video and photo evidence.
Hartsock said police responded around 3:24 p.m. to a 911 call about a man asleep in a running SUV outside a tire shop near 98th and Central NW. Officers identified the SUV as belonging to Peter, who had a warrant for his arrest after Bernalillo County deputies found fentanyl and methamphetamine in his SUV in April.
Hartsock said police laid spike strips to deflate Peter's tires if he fled and started making announcements for him to surrender. He said around 20 minutes later Peter woke up and drove over the spike strips before going into the parking lot across the street.
Hartsock said Peter fled the SUV on foot and started walking behind a shopping mall toward the entrance of the El Mezquite market. He said police followed Peter, commanding him to stop, before he ran into the store with officers on his heels.
Security video showed one officer used a Taser on Peter's back before he turned around with a gun in his hand and fires the gun as he begins to fall into a cash register. Employees and shoppers can be seen fleeing to the back of the store or hiding behind registers as both officers and Peter open fire.
Hartsock said the first shot fired by Peter went right by Officer Trujillo's head. Over the next few seconds, officers can be seen shooting at Peter — who is laying on the ground — from at least three separate directions, with bystanders and officers apparently in the line of fire.
Hartsock said Peter fired at least 12 shots until his gun was empty, many of them hitting the ceiling and wall. He said police fired at least 46 bullets. Hartsock said the gun fired by Peter had not been reported stolen and APD is "still investigating its origins at this point."
Medina said Peter created the scenario that put innocent people in the path of officers' bullets.
"Both of these individuals, in my mind, are individuals that should not have been out in the community in the first place," he said. "... I've said it over and over again, substance abusers should be getting substance abuse help. People with mental health concerns should be getting a mental health resources. But when an individual crosses the line and becomes violent, it is of the utmost importance, if we're going to make this community safe, that they are held accountable, and that they're removed for the appropriate amount of time from the community."
___
(c)2023 the Albuquerque Journal (Albuquerque, N.M.)
Visit the Albuquerque Journal (Albuquerque, N.M.) at www.abqjournal.com
Distributed by Tribune Content Agency, LLC.