Civilian oversight of embattled LASD approved
The department has been beset with allegations of inmate abuse by deputies and costly lawsuits
---
By Brian Melley
Associated Press
LOS ANGELES — Los Angeles County supervisors voted Tuesday to create a civilian commission to oversee the scandal-plagued Sheriff's Department.
Supervisors voted 3-2 to in favor of the panel to review and provide recommendations on the operation of the department that patrols unincorporated areas of the county and several suburbs while running the nation's largest jail system.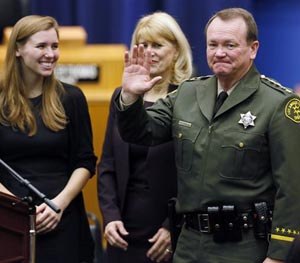 The department has been beset with allegations of inmate abuse by deputies and costly lawsuits.
Sheriff Lee Baca stepped down in January after 18 underlings were charged with federal crimes ranging from beating inmates and jail visitors to obstructing justice.
"The Sheriff's Department has long required a level of scrutiny that has been missing. The time has come," said Supervisor Mark Ridley-Thomas, who authored the measure. "New department leadership has been elected with a mandate for reform."
Opponents said the panel will have little authority over the elected sheriff, and a newly established inspector general should be allowed to do his job.
Sheriff Jim McDonnell, who was sworn in last week, issued a statement in favor of creating an advisory panel.
McDonnell, former Long Beach police chief, was a member of a temporary Citizens' Commission on Jail Violence that issued a scathing report about a "persistent pattern of unnecessary and excessive force" and Baca's leadership failures.
McDonnell said the commission would help move the department beyond past problems.
The supervisors agreed to create a working group to determine the commission's mission, structure and authority.
Merrick Bobb, who monitored the department as special counsel to the Board of Supervisors, said the success of the commission will depend on its makeup and whether its decisions are binding.
Bobb, whose job was essentially replaced with the creation of an inspector general, said he had broad investigation powers but no ability to enforce his recommendations.
"I had no ability to tell the sheriff to do anything," he said. "The civilian commission, similarly, will have no ability to tell the sheriff to do anything unless the sheriff voluntarily gives up some of his powers."
Copyright 2014 The Associated Press