Officer-involved shootings prompt array of bills in state legislatures
Lawmakers are moving quickly with scores of bills ranging from increasing police training to putting tighter limits on using deadly force
---
By David A. Lieb 
Associated Press
JEFFERSON CITY, Mo. — With legislatures convening across the country, lawmakers are moving quickly to respond to one of the biggest stories of the past year, the police killings of unarmed residents in Missouri, New York and elsewhere.
Scores of bills have been filed that would place more scrutiny on interactions between law officers and the public, and that would aim to address concerns about perceived racial injustice, police tactics and civil unrest.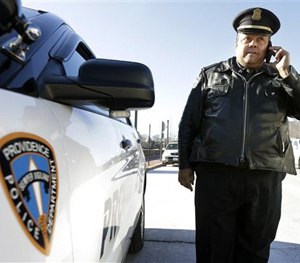 In Missouri, lawmakers have filed more than 40 bills stemming from the fatal shooting of Michael Brown, an unarmed black 18-year-old, by a white officer in the St. Louis suburb of Ferguson. The debate over police conduct — and officer safety — also is expected to loom large in New York, following the in-custody death of Eric Garner and the subsequent shootings of two officers.
Lawmakers in at least a dozen states are proposing to mandate or expand the use of cameras attached to officers' uniforms in an attempt to avoid disputes about exactly what happened during police conflicts with citizens. Other proposals would require more training for officers, tighter limits on using deadly force and the appointment of special investigators when police kill people.
Though some have bipartisan support, many of the proposals to curtail police powers are coming from Democratic lawmakers. Some Republicans have countered with proposals providing better police equipment and imposing stricter penalties for threatening officers.
"I want to address some of the underlying building blocks that have caused this," said Missouri House Speaker John Diehl, a Republican from suburban St. Louis. But he added: "We're not going into it with the assumption that we have to fix what the men and women on the front lines are doing. We're not going to take away tools that they need to protect themselves."
The debate in Missouri is expected to be intense.
On the opening day of the 2015 session, protesters laid down in the Capitol Rotunda and then temporarily shut down the Senate proceedings, chanting phrases such as "No justice, no peace."
"It's clear that our country needs to toughen up on some of its policies," said one of the protest leaders, Waylon McDonald of St. Louis.
Lawmakers proposing to require officer cameras argue they would protect both officers and the people with whom they interact. There was no video evidence of the August confrontation between Brown and former Ferguson police officer Darren Wilson. Video shot by a bystander helped shape public opinion in the New York incident.
But one Democratic proposal to fund the cameras with a tax on handgun and ammunition sales is unlikely to pass in Missouri's Republican-led Legislature, which recently cut taxes and strengthened gun rights.
Utah Gov. Gary Herbert, a Republican, said he supports a $500,000 request to buy cameras for all state troopers. The proposal needs legislative approval.
In Rhode Island, the push to require police cameras is being led by Democratic Rep. Joseph S. Almeida, a former patrolman who co-founded the state's minority police association. But privacy concerns are being raised by fellow Democratic Rep. Raymond Hull, who is a police sergeant in Providence.
"It's not so much that I'm looking to protect the cops, I'm more interested in protecting the privacy of people when I'm in their home," Hull said.
Bills pending in the New Jersey Assembly would create a task force on officer cameras and require local government approval before police agencies can get surplus military equipment. Police in Missouri were widely criticized for using armored vehicles to disperse people protesting Brown's death.
In New York, Republicans have proposed equipping officers' vehicles with bullet-proof glass, while Democrats have suggested various proposals, including promoting greater diversity in police ranks and the appointment of a special prosecutor to investigate killings by police.
Citizen review boards, which hear complaints about police conduct, date to the 1960s in some cities but are now being more widely pursued, including as a constitutional amendment in New Mexico.
Wisconsin enacted a law last year requiring an outside investigation into officer-involved deaths. Similar proposals are emerging elsewhere, including in Alabama and California, where thousands took to the streets to protest law enforcement killings of unarmed black men.
California Assemblyman Kevin McCarty, a Democrat, wants to create independent panels under the oversight of the state Department of Justice to investigate officer-involved shootings. He said local prosecutors are often perceived as too close to law enforcement agencies to investigate them fairly.
"Is the current process fundamentally flawed and morally bankrupt? I don't know. Could there be a better process that brings more public trust and independence? Absolutely," McCarty said.
Copyright 2015 The Associated Press