Oregon 1st state to get extra funds for mental health crisis services
Federal money will allow communities to send mental health workers instead of police to incidents that involve non-violent behavioral health emergencies
---
By Nicole Hayden
Oregonlive.com
PORTLAND, Ore. — Oregon is the first state approved to receive expanded federal Medicaid funding for services provided by mental health crisis teams such as Cahoots in Eugene, state and federal officials announced Monday.
The new stream of federal money will allow more communities to send trained mental health workers instead of police to incidents that involve non-violent behavioral health emergencies.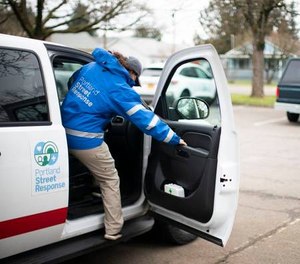 U.S. Sen. Ron Wyden, the Oregon Democrat who chairs the Senate Finance Committee, championed the Medicaid reimbursement expansion after seeing the success of the Cahoots program that preceded Portland's similar program, Portland Street Response.
The new federal funding can be used both to operate already established programs and any new mobile teams that are created. Already other cities in Oregon have expressed interested in creating similar service models, Wyden said.
"This … demonstrates how our state continues to lead the nation when it comes to reimagining a more humane and effective response for people in a mental health crisis," Wyden said. "Cahoots has long proven a success at de-escalating these crises."
While Oregon is the first state to secure this approval, officials are hoping other states will follow suit. The approval means Oregon will receive a higher federal Medicaid match of 85% for the next three years to reimburse mobile crisis services delivered to people on Medicaid, the federal health insurance for low-income people. This is an increase from a prior 60% match.
The nation's top Medicare and Medicaid official Chiquita Brooks-LaSure said they are "proud to partner with Oregon to become the first state in the nation to expand mobile crisis services…We hope other states follow Oregon's lead…Oregon is blazing a trail."
Gov. Kate Brown issued myriad "thank yous" on Monday's press call and stated partnerships that unite federal resources with local communities are key. Wyden concurred.
[RELATED: The fourth 911 option: Mental health services]
While the Medicaid match is only promised for three years, Wyden said he will continue to fight to make the funding a permanent part of Medicaid since it "is a life-saving breakthrough."
"(This) stepped-up federal investment makes it much easier and cost-effective for local communities to build Cahoots-like programs tailored to their needs," Wyden said. "And I'm going to keep working with the state and the federal government to ensure Oregon cities and counties interested in this fresh approach to crisis response continue to get the resources."
Officials in Jackson County and Pendleton have expressed interest in creating similar crisis teams during previous discussions with Wyden while officials in Clatsop County hope to be able to expand the team they have already built, Wyden said.
And while Wyden acknowledged during the press conference that this funding will also benefit Portland Street Response, city officials said state rules currently don't allow the city's mental health crisis response team to access Medicaid reimbursements.
Robyn Burek, Portland Street Response program manager, said while she is excited about the potential to receive Medicaid reimbursements, the process to secure them for her program has been slow. The Oregon Health Authority initially declined the crisis team's application to receive Medicaid dollars because Portland Street Response does not provide ongoing care, only one-time mental health care during crisis events. The team does, however, provide follow up check-ins at times to help people access housing services or other resources.
This differs from Cahoots in Eugene, which can connect clients they serve in crisis to ongoing care through their White Bird Clinic, the umbrella organization that operates Cahoots.
[RELATED: Portland's non-police response team sees success, poised to expand]
Burek said she is hoping to talk to the state health authority in the coming weeks to revisit Portland's application. If approved this time, setting up the reimbursement system could take six to eight months, she said.
Liz Gharst, Oregon Health Authority spokesperson, said the state is in ongoing conversations with Portland Street Response to talk about what they need to be eligible for Medicaid reimbursements.
The state is currently in the process of drafting new mobile crisis rules which will make the path to being certified for Medicaid reimbursements more flexible, Gharst said. She added that Portland Street Response has been part of the Rules Advisory Committee.
Hank Stern, Wyden's spokesperson, said while their office doesn't oversee the state health department's rules, they "certainly would work with Portland Street Response and the state to ensure Portland Street Response can be eligible to receive this support."
©2022 Advance Local Media LLC. Visit oregonlive.com. Distributed by Tribune Content Agency, LLC
NEXT: State your case: Should law enforcement respond to mental health crisis calls
McClatchy-Tribune News Service