San Diego police, city leaders call attention to uptick in homicides, spate of shootings
In just the first two months of the year, officers have confiscated 372 guns, including 77 ghost guns
---
By David Hernandez
The San Diego Union-Tribune
        
SAN DIEGO — San Diego police and city leaders called attention Wednesday to an uptick in homicides, as well as a recent spate of shootings in the Mountain View and Mount Hope neighborhoods.
The city saw a 43 percent increase in homicides in January and February, compared with the same period last year, from seven to 10 homicides, according to police figures.
Police and city leaders said the city recorded 44 non-fatal shootings in the first two months of this year. Figures for the same period last year were not available.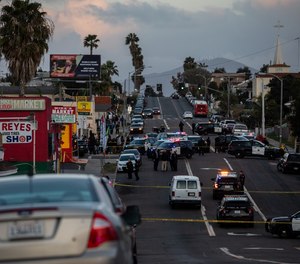 Mayor Todd Gloria highlighted recent gun violence in the Mountain View and Mount Hope neighborhoods in particular.
In a span of 32 hours last month, according to police, a feud between two gangs in Mountain View and Mount Hope resulted in four shootings, which left a 27-year-old man dead and three other men and one woman injured. Residents told the Union-Tribune the shootings left them frustrated and on edge.
"There's no way I would go on a run around my neighborhood," 38-year-old Mountain View resident Howard Cuarezma said. "It's gotten really out of hand."
"When is it going to be enough?" he asked.
During a news conference at City Hall on Wednesday, Gloria and City Council President Sean Elo-Rivera acknowledged that some residents feel unsafe and want the city to curb gun violence.
"We hear you, and we are taking action," Gloria said.
The mayor said he directed more officers to patrol the two neighborhoods, city crews to fix 25 broken streetlights and a "strike team" to clean up graffiti. He said the measures will improve public safety.
"As your mayor, I will not stand by and let our communities be degraded by violence and have our residents living in fear," Gloria said.
The city will also schedule meetings with community members to discuss other steps to curb gun violence.
Police Chief David Nisleit said much of the gun violence citywide involved gangs, but he acknowledged some shootings stem from other issues, such as family disputes, and that the issue is not unique to Mountain View and Mount Hope.
He said officers and detectives are working hard to solve homicides and shootings. He said they have made arrests in eight of the 10 homicide cases so far this year.
Nisleit said officers are also "working hard" to prevent shootings by confiscating guns. The chief, who spoke of a proliferation of guns on the street, said that in the first two months of this year, officers confiscated 372 guns, including 77 so-called ghost guns, which are firearms assembled with parts from kits. The parts lack serial numbers, making the guns hard — if not impossible — to trace.
"Three hundred and seventy-two may sound like a number to you, but each of those guns pulled off the street represents a robbery, a shooting or a murder that was prevented by our Police Department," Nisleit said.
The chief added that the guns were taken from gang members, drug dealers and people on probation or parole.
He credited a team of investigators that the department assembled last year to crack down on the manufacture and illegal sale of ghost guns with doing "phenomenal" work.
Elo-Rivera, whose district includes Mountain View and Mount Hope, thanked the police chief and mayor for the steps they took in response to the shootings in the two neighborhoods.
"Cleaning graffiti, trimming tress, fixing the streetlights — these are things we can do to make our communities feel safer now, to show communities that we care and make the city's presence felt in the community," Elo-Rivera said.
He said he has heard from constituents who want more police officers in their neighborhoods, but he also said the city must work on long-term solutions to prevent violence. The efforts, he said, must include investments in programs for youth.
He noted that young people, particularly young men, often are caught up in gun violence.
"We need our young folks to feel loved, because hurt people hurt people," Elo-Rivera said.
Last summer, Elo-Rivera and Councilmember Monica Montgomery Steppe unsuccessfully lobbied to shift $6 million in police overtime funding to other priorities. The efforts came as police reform advocates called on the City Council to shift funds from the Police Department's budget to programs and services to address the root causes of gun violence.
Gloria acknowledged the city historically has not targeted young men and other youth with programs to support them. He said the city will soon unveil a youth employment program that is expected to assist more than 1,000 people.
Last year, the city recorded 59 homicides, a slight increase compared with the 56 homicides in 2020 and 50 in 2019, according to police figures.
Several cities across the U.S. also saw an increase in homicides last year and in 2020, although generally homicide rates are considerably lower than in the 1990s.
The victims killed so far this year are:
Martin Andara, 68, on Jan. 1Rodrigo Diaz-Perez, 27, on Jan. 1Fatima Cedillo, 22, on Jan. 15Erick Balanzar, 14, on Jan. 31Jacob Harvey, 29, on Feb. 2Roger Jauron, 57, on Feb. 8Abram Santos, 36, on Feb. 13Jimmie Lee Roberts, 27, on Feb. 15Kyle Delangel, 37, on Feb. 19
A 30-year-old man on Feb. 20. His name has not been released.

©2022 The San Diego Union-Tribune.
McClatchy-Tribune News Service