Ambush in Lakewood: God bless these fallen peacekeepers
---
From all descriptions it was a tranquil Sunday morning inside the FORZA Coffee Shop in Lakewood Washington. Four uniformed police officers had their marked units parked outside, while they sat at a table tapping away at their laptop computers. Their shift was about to begin. Customers lingered over their coffee.
Between 8:00 and 8:30 a.m., a man entered the coffee shop and moved passed the gathering of officers. He went toward the counter as if he was about to order and he suddenly pulled out a firearm and opened fire.
According to Pierce County Sheriff's Department spokesman Ed Troyer, "It was definitely an ambush-target situation."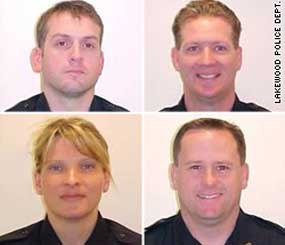 Troyer emphasized, "This was not a robbery," indicating that the squad cars were clearly visible, parked outside, and officers all were in uniform. Troyer stated that two of the officers were shot seated in front of their computers. One was shot as he stood up.
Troyer reported the fourth officer fought and was able to return fire. Troyer said, "We believe there was a struggle, a commotion, a fight… He fought the guy all the way out the door."
The fourth officer then succumbed to his wounds after he was able to wound the suspect.
The Suspect
The suspect has been identified as Maurice Clemmons. Warrants for first-degree murder have been issued against him.
Clemmons is a career criminal, who has a long history of felony arrests in Arkansas as well as Washington. The lengthy sentence he was serving in Arkansas was commuted in 2000 by then Arkansas Governor Michael Huckabee.
After his commutation, Clemmons continued to offend in Arkansas. In spite of this Clemmons was allowed to move to Washington and offended repeatedly there also. At the time of the shooting Clemmons was free after posting $15,000 of a $150,000 bond for pending charges of 3rd degree assault of an officer and 2nd degree rape of a child in the state of Washington. He was released on a bracelet, but has since cut that bracelet off.
Seattle
Troyer could not speculate Clemmons' motive, and there has been no link found to the recent ambush on officers in Seattle on Halloween. In that attack Officer Timothy Brenton sat in a marked patrol car with his trainee Officer Britt Sweeney, when a male opened fire on them for no apparent reason other than to kill police officers. Brenton was killed in the line of duty and Officer Sweeney was struck in the neck, but still was able to draw her weapon and return fire, driving off the killer.
Days later a 41-year-old suspect named Christopher Monfort was apprehended and wounded in a gun fight with police. Monfort claimed to be at "war" with law enforcement.
No Time to Mourn
In this attack these four veteran police officers were killed in the line of duty:
Officer Sgt. Mark Renninger
Officer Ronald Owens
Officer Greg Richards
Officer Tina Griswold
Those who knew and worked side by side with these fine officers are devastated, but have no time to mourn. As this article goes to print, more brave officers are putting it all on the line and are eight hours into a stand-off, with the suspect in the killing of these officers.
Take a moment to mourn for those that have ended their tour of duty. The motto of the Lakewood Police Department is "We are of, for, and about the community." Well these officers "of" the community of Lakewood died "for" the community of Lakewood. They are fallen heroes, who did not expect what happened, but knew that it could and every day they still put on that uniform. They wore that uniform with pride and in that uniform they died. God bless these fallen peacekeepers and may they find eternal peace and protection in your care.