5 things to know about police consultants
A police consultant audits and analyzes a department to help improve its overall performance and efficiency
---
Want to become a border patrol agent? What about a Texas Ranger? Well, you are in luck, because there are many types of law enforcement jobs available based on your interests and skillsets.
And while a large majority of those jobs are for sworn officers, there are also plenty of positions available for non-sworn employees. However, there are some jobs that even the savviest law enforcement professional may not think about applying for – especially after retirement.
For instance, have you ever thought about becoming a police consultant? And, no, we aren't talking about those consultants often hired to advise popular police-themed TV shows. It's actually quite the opposite and it's important to note that a police consultant job isn't for everyone.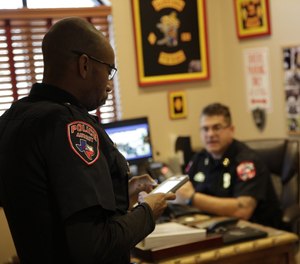 Below, we break down five things to know about police consulting, including why it's a great position for those who have a specific area of expertise to share with other departments.
1. A police consultant audits and analyzes a department to help improve its overall performance
A police consultant job is oftentimes connected to a law enforcement-specific firm that is contracted by a department or agency to improve its policies, training programs or accountability systems. Furthermore, police consultants are often tasked with auditing and analyzing a department's records, including employee performance, as well as police conduct and operations files.
Once the department and the police consulting firm agree on a new plan of action, a police consultant then develops comprehensive recommendations to help the agency improve its performance and efficiency.
2. Departments prefer police consultants with prior law enforcement experience
In 2020, the Seattle Police Department (SPD) struggled with demands to cut the agency's budget by 50%. Former Seattle Police Chief Carmen Best and then-Mayor Jenny Durkan were at odds with the city council over the proposed budget cuts, saying the large cut would deeply affect their already understaffed department.
At the time of the proposed cuts, the Port of Seattle launched a review of its police department. The department hired police consulting firm 21CP Solutions, which employs a handful of former SPD leaders, including former Police Chief Kathleen O'Toole and Best. The agency, which provided suggestions for improvement, ultimately offered 52 recommendations. However, these three priority areas stood out:
A need to address a perception of inequity experienced by employees
An increase in organizational transparency to improve perceptions about the department, and
A move away from a traditional police response on homelessness.
"We started this work to answer the national call for a close examination of current policing practices, civil rights and racial equity," said Peter Steinbrueck, Port of Seattle Commissioner and Task Force member. "With the help of national consultants and an engaged panel of diverse community experts, we learned the Port of Seattle Police ranks highly among peer police departments, but there are also things we can do that will improve accountability, public trust and safety for all. I hope to see more police departments around the country follow our lead and move toward higher standards."
Soon after the firm's findings and recommendations, the department made significant changes in its response to homelessness, including a pilot of a full-time crisis coordinator role.
"The crisis coordinator will support crisis response and work with the Port of Seattle SEA Cares Initiative, a cross-department project launched to help people using the airport particularly for emergency shelter to connect to regional services," said Mike Villa, Port of Seattle Police Interim Chief. Further, the department created a plan to begin implementing recommendations within six months of the firm's report.
Simply put, a consulting firm with law enforcement experience is a big plus. These firms understand current federal, state and local laws. They're also familiar with standard and acceptable police procedures. A consulting firm without this experience comes with a steep learning curve and could produce illogical recommendations – something most departments are not willing to take a chance on.
3. It's important for a police consultant to have an area of expertise to share with other departments
It's no secret that departments around the country continue to struggle with recruiting and retaining police officers. In response to this crisis, many agencies are hiring police consultants for help.
Calvin Dark and Rasheedah Thomas, principals of CD Global Strategies Group, a Washington, D.C.-based strategic communications firm, help law enforcement agencies across the country on crisis communications, marketing and branding. According to Dark and Thomas, helping police departments increase their ranks has been rewarding for the company.
In an article for Police1's special coverage on the recruitment and retention crisis in law enforcement, Dark and Thomas discussed the importance of hiring recruitment consultants. "Hire a consultant who will work with you to create a strategic plan with detailed deliverables," they wrote. "A thorough audit of everything you are currently doing to recruit, along with robust messaging development, must be the foundation of your outreach."
Dark and Thomas agreed that taking advantaging of police consultants who specialize in a specific area of expertise, such as crisis management or public relations, is an invaluable resource for a department's continued success.
4. Similar to a law enforcement job, a police consultant must have great communication and problem-solving skills
In the mid-90s, the Pasadena (Texas) Police Department hired a private management group to evaluate its department. Ultimately, the group determined the department needed to revamp its management structure and operations to improve its overall performance and efficiency. In the report, it noted that "consultants who evaluate law enforcement agencies need to possess certain critical skills, including both substantive and methodology expertise."
Methodology expertise includes knowledge of:
Research design
Data collection
Statistical analysis procedures
And substantive expertise includes knowledge of:
The problem
Any law, rule and regulations related to the problem
Further, the report comments on the importance of consultants and police leaders establishing mutual expectations and clear communication from the get-go.  
"Consultants can provide fresh ideas and an objective evaluation of the department," the report continued. "Consultants who work cooperatively with departmental personnel – especially the chief executive – can produce studies that educate administrators on how they can improve the effectiveness of their department but also the community it serves."
5. There continues to be a need for passionate and well-educated police consultants
Depending where you live, there are most likely local police consulting firms that know the area and its specific needs. However, outside firms may be able to provide a fresh perspective and propose out-of-the-box solutions. After all, a good police consultant strives for what every police leader wants out of their agency: current and continued success.
Consulting firm 21CP Solutions agrees, saying: "We are a diverse, seasoned group of professionals who work to help communities transform the delivery of public safety services. We are police chiefs who have worked to turn around troubled police departments and renew the community's confidence in their agencies … we are all professionals who have worked in, with and for communities to drive safe, fair, equitable and inclusive public safety."
THE BOTTOM LINE
Whether you're looking to become a police consultant or land your next client, these five key points are critical in your success and role as a police consultant. Police departments need fair, knowledgeable and problem-solving consultants who are committed to an agency's and community's wellbeing.