How to become a police cadet or explorer
Police explorer and youth cadet programs are perfect for young people interested in law enforcement; here's what you need to know
---
By Police1 Staff
Joining a police cadet or explorer program is a great idea if you aspire to become a cop. While the specifics of each program may vary between departments, the goal of both is the same: to introduce young people to a potential career in law enforcement.
[Think you have what it takes to be a cop? Download a veteran police officer's list of the 10 questions you need to ask yourself first.]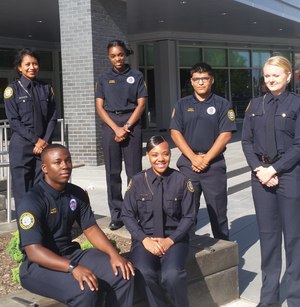 what is a cadet?
First of all, let's explore the role of a police cadet. Cadet programs are essentially an entrée into law enforcement via an apprenticeship program for people between the age of 18 and 21, although the age requirement varies. Cadet programs are designed to transition enrollees into jobs as police officers.
Police cadet programs are run by the various local police departments, so each one has its own rules and requirements. Some offer paid positions; some are full-time while others are part-time, and some require the enrollee to be in college while participating.
In order for enrollees to experience the many different aspects of law enforcement, they're rotated through various police divisions, such as traffic control, community policing and forensics.
A police cadet can expect to learn the following (among others), all of which are essential to a career in law enforcement:
Firearm use
Driving techniques
Policing ethics
State and local laws
Cultural awareness
Decision-making
Crime scene control
Life-saving techniques
Upon completion of the program, selected enrollees can transition into a jobs as police officers by applying to the department and undergoing the testing process.
what is a police explorer?
Many police departments offer police explorer programs, which are run in partnership with Learning for Life, a non-scouting subsidiary of the Boy Scouts of America. While similar to cadet programs in training and hands-on experience within working departments, police explorers can be younger to participate (usually 14-21) and serve as volunteers only. 
Like in many cadet programs, explorers also have the opportunity to participate in national conferences and competitions that put their training to the test.
Becoming a cadet in Portland
Since these programs vary depending on where they take place, here's an example of how one operates in Portland, Oregon.
The mandate of the Portland Police Bureau Cadet Program is "for the Cadets to become future Community Policing Officers for the Portland Police Bureau." 
The requirements for enrolling are as follows:
Must be a High School or GED program graduate or be a student maintaining a 2.0 GPA or higher.

Must have no arrests or convictions which would prohibit employment as a Portland Police Officer.

Must possess or have the ability to immediately obtain a valid driver's license or instructional permit and maintain a good driving record.

Must be able to pass a background investigation and interview.
Once accepted, the new cadet goes through classroom instruction, police training and one-on-one mentorship with police officers. Cadets are assigned to one of the three Portland precincts, where they work in various divisions alongside police officers. While they, too, wear uniforms, cadets aren't authorized to make arrests or issue citations.
Some of the activities that a police cadet is involved in are:
Policing community events such as parades and rallies
Attending traffic crash scenes
Assisting at crime scenes
Doing traffic speed control 
Going on ride-alongs with officers. 
Once they successfully finish the police cadet program, enrollees are encouraged to apply to become full-fledged police officers with the department.
This article, originally published November 2010, has been updated.
Ready to get started? Download a veteran police officer's list of the 10 questions you need to ask yourself before beginning a career in law enforcement by filling out the form below:
10 QUESTIONS TO ASK YOURSELF BEFORE BECOMING A POLICE OFFICER